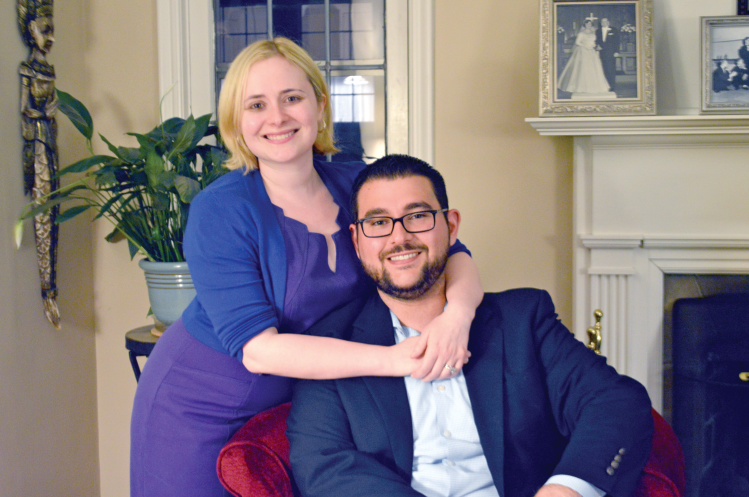 Matthew Shupe and Melissa Yasinow, who are lawyers in love, found themselves flying over southern New Zealand last fall, scanning territory Peter Jackson used while directing his "Lord of the Rings" film trilogy. These hardworking attorneys were having the time of their lives, far from home and lost in fantasy.
"One of the coolest parts" of their three-week honeymoon was taking a small prop plane to "fly by the mountain where Gandalf fought the Balrog," Yasinow said. She conjured Shupe sitting on his hands, headphones on, "geeking out" and screaming, "This is madness! This is madness!" as they flew over mountains known as the Southern Alps.
At the same time, Yasinow and Shupe are very down to earth. Not just Middle Earth.
Reality occupies them, including politics, a field Yasinow is comfortable with. "We were just talking about it at dinner before you came over," she said during a recent visit to their home.
"I'd say one thing we have in common is dedication to doing good, making the world better than we found it … It's just a general interest in engagement with our community."
While they are dedicated attorneys, Yasinow and Shupe also know how to have fun. As they put it, they like being nerds, sharing affection for "Star Wars" (his love) and "Star Trek" (hers). They also like cooking (her go-to) and gardening (his).
A study in contrast and complementarity, the two also share a worldliness she has a jump on, having traveled to some 40 countries, including South Korea, where she taught English as a second language on a Fulbright program in 2006.
Yasinow, a blonde who stands 4 feet 11 inches, and Shupe, dark-haired and 6 feet, recently moved into a 1925 Tudor in Cleveland Heights, the city where she is a first-term councilwoman. He grew up Lutheran. She grew up Reform.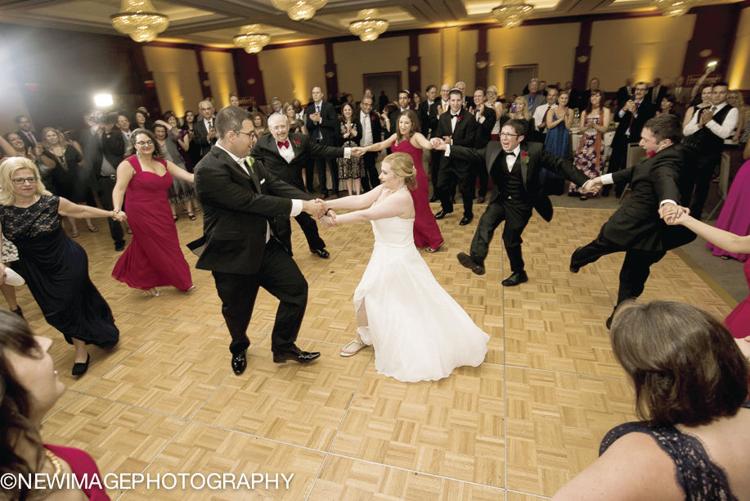 She works for Kohrman Jackson & Krantz, specializing in litigation. He works for Balin Law, focusing on disability. She graduated from Case Western Reserve University School of Law in Cleveland in 2011. He graduated a year later.
They plan to have children, raising them in a Jewish household.
"I helped select the language of the ketubah," Shupe said, citing his contribution to their wedding at Anshe Chesed Fairmount Temple in Beachwood.
There is back-and-forth. He cites the Jewish traditions of education, learning and family – and family get-togethers on Shabbas – as elements their family will adhere to.
While he has no plans to convert, Shupe greatly enjoys being part of Yasinow's family. She is one of the first Jews he ever met.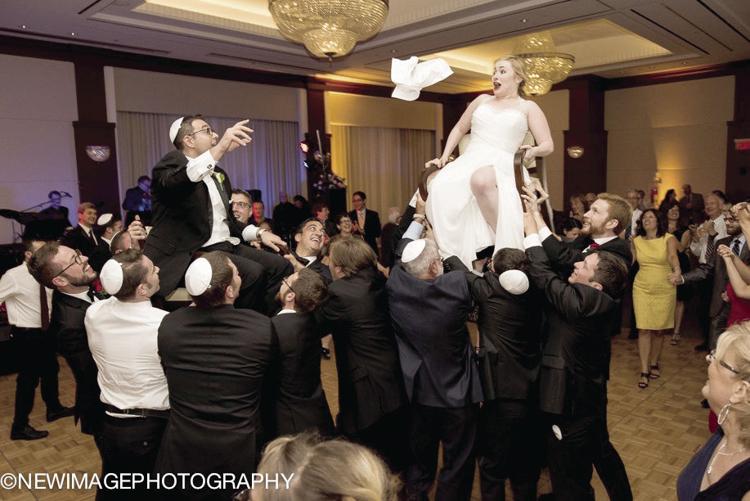 "I had no idea what to expect," he said. "I mean, Melissa's personality is very charged, passionate about everything. I wasn't sure if that was a reflection of her culture (that) she comes from. Then I met her parents and it is indeed a reflection of the culture she comes from. Her entire family is very loving."
His family embraced the couple in turn. "They were surprised, they were tickled, they thought it was exotic, too," he said, recalling telling his parents he was dating a Jewish girl. "I come from a much more blue-collar background. They were much more impressed by the fact that I was dating the daughter of a doctor," he said.
They have been through trying times, he more than she. Emerging into a market in which the bottom had fallen out of the legal profession didn't help.
How their love flourished through challenges speaks of a couple that works – and plays – on many levels.
"I think they know each other so well that they can push each other to their limits without regretting it because they know how hard they can push each other," said Jonah Grabelsky, a fellow lawyer who became friends with the two at Case law school. Grabelsky works at Fadel & Beyer, LLC.
Still, there are differences of class and culture.
Shupe is a small-town boy from a blue-collar background, while Yasinow comes from an East Side clan with a lot of history; her great-grandfather's name is on the veterans' memorial in Cumberland Park in Cleveland Heights. Her grandfather, James Yasinow, who died in May, was a past board chair of the Cleveland Jewish News Board of Directors.
But those differences, it seems, bind rather than divide them.
"I would say that Matt, I believe, has had to overcome harder obstacles to get where he is today, and I'd say that, however, we both very much work to enjoy where we are today," Yasinow said.
"I'd say we're very dedicated and focused and hardworking … it does take a lot to graduate from college, to graduate professional school. Keep in mind when we came into the job market we were in the worst economic crisis since the Great Depression."
"Not having many professional role models growing up, not many college graduates, lawyers or doctors in the family, she definitely gave me a lot of self-confidence that I could complete law school," said Shupe, who took a soul-searching year off in 2009.
"I knew that I cared about him, I loved him," said Yasinow, adding, "you can encourage people but you can't save anybody else. It was a question of, did he want to be in Cleveland? Did he want to continue with law school? Did he want to attempt to get a graduate degree? I mean when you come from means, in and of itself it's overwhelming and scary. But when you do this and you have no safety net and you have no role models in this field whatsoever ... Matt really has pulled himself up by his own bootstraps through all of this. It took a lot of courage."
Pinpointing when they realized they were in love – he said he beat her to that punch – is tricky, but there's no doubt that love rules.
Yasinow and Shupe were married at Anshe Chesed Fairmount Temple on Sept. 6, 2015. Lots of family was among the 230 or so at that Reform temple's celebration, helping Rabbi Robert Nosanchuk unite a couple so clearly meant for each other.
The Wonder Years
Shupe comes from Arona, a tiny borough in western Pennsylvania. Yasinow is a fifth-generation Cleveland Heights resident.
"We were just friends together in class and he was a pretty smart guy and he helped teach me about option contracts," Yasinow said, noting that the notions of offer, acceptance and consideration are the building blocks of contracts. "As I like to say, I thought his consideration was quite valuable."
"When I fell in love with her, I was telling friends before we went on our first date that I met this little, diminutive Jewish girl, which is very exotic where I'm from, and I'm in love with her, I want to marry her," Shupe said.
Their first kiss was Halloween Night 2008 at the Weatherheadless Ball, an annual event held at the Peter B. Lewis Building on the CWRU campus. He dressed up as Alex, the main protagonist in the Stanley Kubrick film of "A Clockwork Orange." She came as a '60s go-go dancer.
"We wanted to see each other again, but we were both Type As, wanting to get this paper done," Yasinow said. It was their first big assignment in law school.
"Here we are. We both think each other's extremely cute but we're really worried about our first assignment for law school," she said. They stayed away from each other until the papers were done.
Long story short, they dated for seven years, finally marrying last fall. But they moved in together to a fourth-floor walkup in the Cedar-Fairmount area in summer 2010, staying there until they bought their Tudor last fall.
Oh, yes, the proposal. Matt made the suggestion – he didn't exactly pop the question – after a concert by Duo Amal, an Israeli-Palestinian piano duo, at Reinberger Chamber Hall on Feb. 22, 2014.
"I had the ring, like, burning a hole in my pocket for weeks," he said. "We were there, we saw that show, we came back up to our apartment, we opened a bottle of wine, Melissa was talking about everything that was going on at work … It was one of those nice moments in a long relationship where you're able to engage with each other for a solid hour-and-a-half, which is a long stretch in today's world.
"I put the ring on her finger and said I would very much like it if you would be my wife … and she realized I didn't ask her a question," he said.
She agreed to his suggestion. Did she see this coming?
"I had the feeling it was going to happen," Yasinow said.
"I think a woman always knows this," said Shupe. "I don't think there's anything you can do to hide your tracks – or your intentions."
"I think Melissa personality is very sweet but also very frank, and she doesn't mince words," said their friend Grabelsky. "Matt," he paused, "is very thoughtful and he can be a little more mischievous, but out of his own personality. He maybe holds his cards closer to the vest."
The big day
Theirs was the first Jewish wedding the Shupe party ever attended. It actually was its first Jewish event.
"The image of them up on the chairs and under the chupah I will never forget," Shupe said, as he and Yasinow revisualized the dancing.
Was the family feeling mutual? "Completely," she said. "It was a big, wonderful fun time." The ketubah signing was such a blast, Rabbi Nosanchuk, whom both call a "Renaissance man," used a friend's snapshot of the ritual for Fairmount Temple publicity.
She said that Shupe wanted to engage with his friends from Arona during the wedding, making them "honorary chupah bearers" who got "to unfurl part of the chupah."
"Thousands of years of tradition and I come along and ruin it," Shupe joked.
Or expand it with a western Pennsylvania custom.
"If you go to Pittsburgh," Yasinow said, "every single wedding must have a cookie table, which is completely separate from the dessert table. They have family and friends bake, bring and buy thousands of cookies you set on a table and people lined up for that more than the open bar, I got to say."
The wedding was international and multidenominational. Members of both families came, including relatives of Yasinow's from Israel and France; a friend even traveled here from distant Palau. Orthodox members of her family came, too. Many years together breed familiarity and affection, it seems.
As did love the day Shupe was helping Yasinow campaign for a four-year term on Cleveland Heights City Council in fall 2013.
"I remember him putting up yard signs in the pouring rain," she said. "There was a huge puddle, it just splashed all over him, and at that moment I just realized here he was in this freezing cold, pouring rain – OK, this is love. I was in love with him well before that."
Has marriage been good for them? "If we weren't a team in all senses before, we sure as heck feel more united afterward," she said.