Always a quick study, Robin Selinger found her one-on-one time preparing for her bat mitzvah with an Israeli tutor and her rabbi to be something of a treat.
"I was the child that wanted the extra lesson and to do more than what's asked of me at school," Selinger says. "And so the chance to study with the teacher at home was a special privilege and I knew it. I really appreciated it."
Selinger, now 58 and a professor of physics at Kent State University and cantorial soloist at Temple Beth Shalom in Hudson, was born and raised in Arlington, Texas, 20 miles from her school, Fort Worth Country Day School, and temple, Temple Beth El.
At the time, she lived too far away to spend much time with students from either her school or temple, and transportation logistics also made it difficult for her to attend Hebrew school. So her parents hired the same Israeli university student who had tutored her older brother for bar mitzvah preparation.
"Hebrew instruction in a Reform congregation was never really a strength," Selinger recalls, adding that while pronunciation was important, vocabulary was not stressed.
Selinger said her tutor used a textbook and gave her homework between lessons, so she felt she learned more than she might have at her temple's Hebrew school. Her tutor also taught her conversational Hebrew.
"He would come and we would sit in the dining room. That was our study room," she remembers. "It was a room that was never used for anything most of the time."
Selinger says she was the second or third girl to become bat mitzvah at Temple Beth El. Rabbi Robert J. Schur opposed the concept until about a year prior to Selinger's bat mitzvah.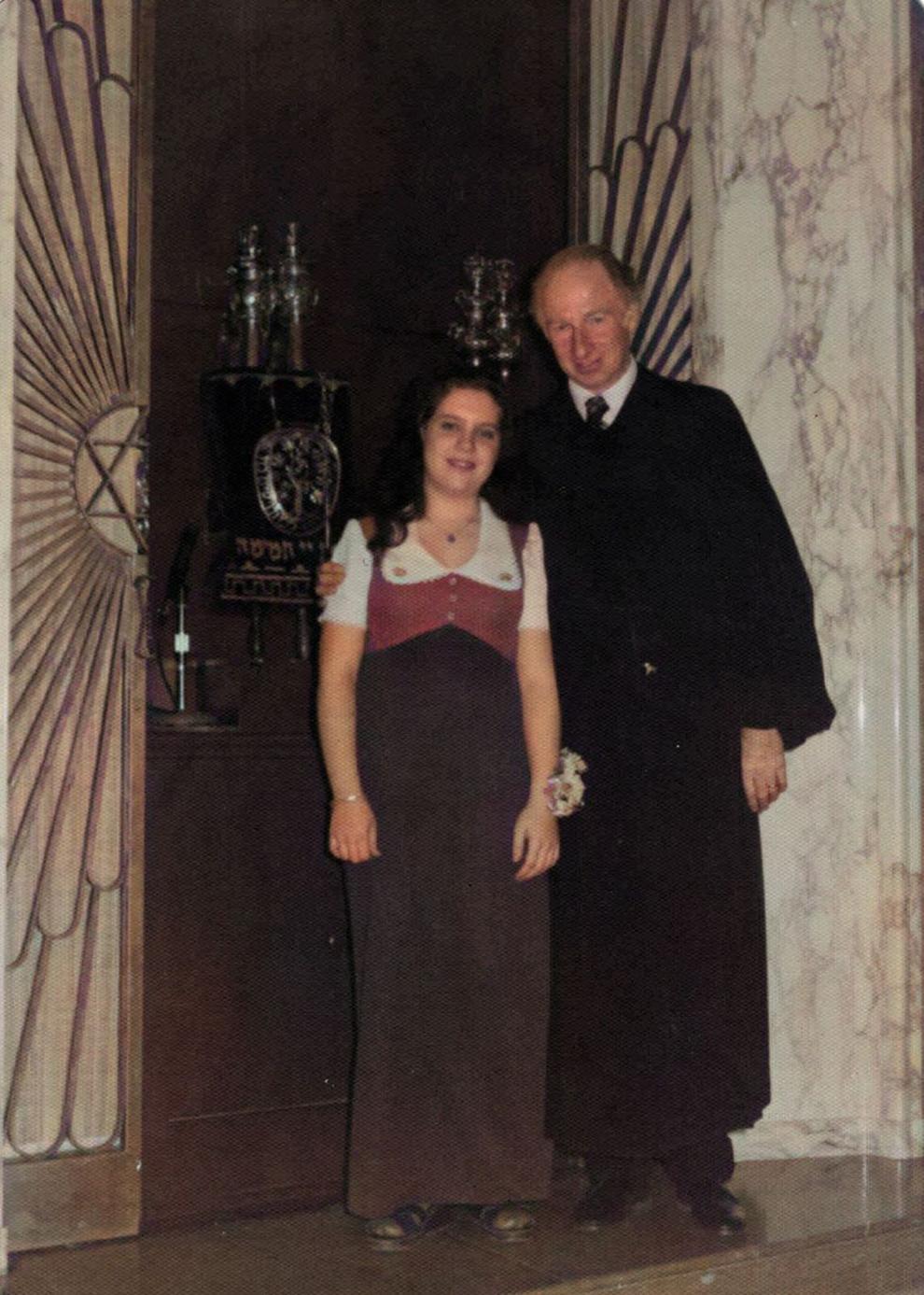 "He thought it was unseemly and inappropriate," she says, until another family, whom he could not easily refuse, made a request for a ceremony for their daughter. "Both parents were stalwarts of the religious school faculty and absolutely the backbone of the congregation."
Their daughter demonstrated "stellar skills," paving the way for others, Selinger says.
"I think I was more nervous about the party than about the service," she says, adding she and two boys in her class jointly held a party at a country club, which included a band playing hits of the 1970s.
"I had a lot of anxiety of like, will any cute boys ask to dance with me? Because I was not a social butterfly," she says. "I still remember there were young men in my class who in general were in the popular group, of which I was not a member, who went out of their way to make me feel comfortable and invite me to dance."
Selinger's bat mitzvah took place at a Friday night service on the date of her 13th birthday in February 1978. She read Torah, led the central V'ahavta prayer and delivered a speech.
Flowers, she said, were a big part of the event, with men in the family sporting boutonnieres and women corsages at their left shoulders. She wore a corsage on her left wrist.
One great aunt who had "come on short notice" to a previous family celebration "made a big stink" when there was no corsage awaiting her, Selinger remembers. "I'm sure my mother made sure to get an extra flower just in case."
At the oneg following, Selinger recalls a family friend had the honor of serving coffee and tea from the temple's silver tea set, an honor she herself later was given at other celebrations.
There was one late entrance that sticks out for Selinger.
"My father had a friend who was a doctor from Dallas, a town far enough away that we didn't see them very often," she said. "The doctor's wife walked in with her hair in this giant bouffant hairdo. Like, her hair was a foot in the air, or more it seemed. When she walked in, it was like bride of Frankenstein. I just about lost it. It was all I could do to not die laughing and embarrass myself."
Jokes and fun aside, working with her rabbi to prepare for the ceremony had an unintended benefit for Selinger.
"Later when I was a teenager, and I had a pretty rebellious spirit and was in conflict with my parents, he actually served as a very important mediator in our ongoing arguments, that we both trusted him and could confide in him, and he could help us somehow survive until I was old enough to leave home," she says. "Looking at all the stuff I see going on in synagogue life now, I recognize how valuable that was – to have another adult in my life who had my best interest at heart who could not exactly advocate on my behalf with my parents, but who could at least help me come to some kind of understanding with them."