"Dear Artists, I've been wanting to write you all. Clearly, the most important thing at this moment is taking care of each other – putting our health care and essential workers in the best possible position to be safe and to help those directly affected by the virus. But it's natural to also be thinking of what this moment means for the future of our industry and community."
So begins artistic director Nathan Motta's mid-May letter to those who have and were about to make art in the Dobama Theatre performance space in Cleveland Heights before stages were shuttered due to the pandemic. His words are personal, but they so eloquently express the shared sentiments of a loving, caring Cleveland arts community in crisis.
Recent research published by the Brookings Institution reports that the performing arts have been the most at risk and the hardest hit by COVID-19 of all the creative arts industries. It was estimated that, nationwide, almost 1.4 million jobs and $42.5 billion in sales have been lost to date. Locally, Cleveland's Playhouse Square expects to lose nearly $4 million and layoff or furlough nearly 200 employees between March, when its theaters were closed, and the end of the calendar year. In theaters, concert halls and arenas across the region, thousands of live performances have been canceled or indefinitely postponed.
"I hope one positive thing that has emerged through all of this," says Motta in his letter, "is the importance of the work of artists like you in our world."
Another positive is the creative retooling and forward-thinking that has recently taken place, as many arts organizations seek an audience among those in isolation and find virtue in going virtual.
Les Délices "Embracing Change"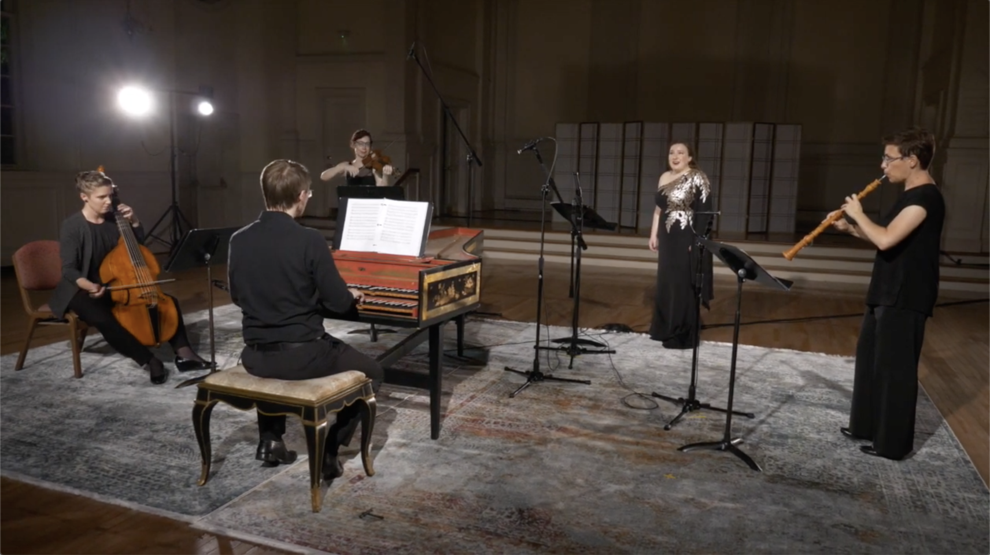 Les Délices is a Shaker Heights-based, nonprofit chamber ensemble emerging as a leader in providing virtual programming in the COVID-19 era and keeping music artists engaged and employed.
In August, Les Délices launched SalonEra, a live-streamed music-focused variety show designed as a salon experience for the 21st century. Programs for this interactive series are produced and streamed on YouTube twice monthly and run through December. In October, Les Délices opened its all-virtual, hour-long Concert Series titled "Embracing Change" with the baroque-infused "Bewitched," which featured rising-star soprano Hannah De Priest in a bone-chilling cantata by Colin de Blamont, Pancrace Royer's riveting harpsichord solo "Vertigo," and François Couperin's trio sonata "La Françoise."
In moving the concert series to an online platform, Les Délices hopes not only to broaden its audience base but also to reimagine the concert experience.
"I've long dreamed of performing concerts in the round and with other elements that would enable a more immersive experience," says Debra Nagy, Les Délices founder, artistic director and baroque oboist, "but there are always limitations with venues."
In pivoting to video – with potential for creative camera work, high-quality audio, and the ability to interpolate notes on the program, artist interviews, behind-the-scenes footage, and on-screen translations – Nagy sees lots of room to experiment.
Of course, there are risks involved. "It's a risk not knowing whether traditional audiences will respond similarly to the online content. And we've had to rethink and transform our working routines and models on every level. But from the beginning, I felt that smaller organizations (like us) would have the greatest possibility to be versatile."
Silver linings at CPT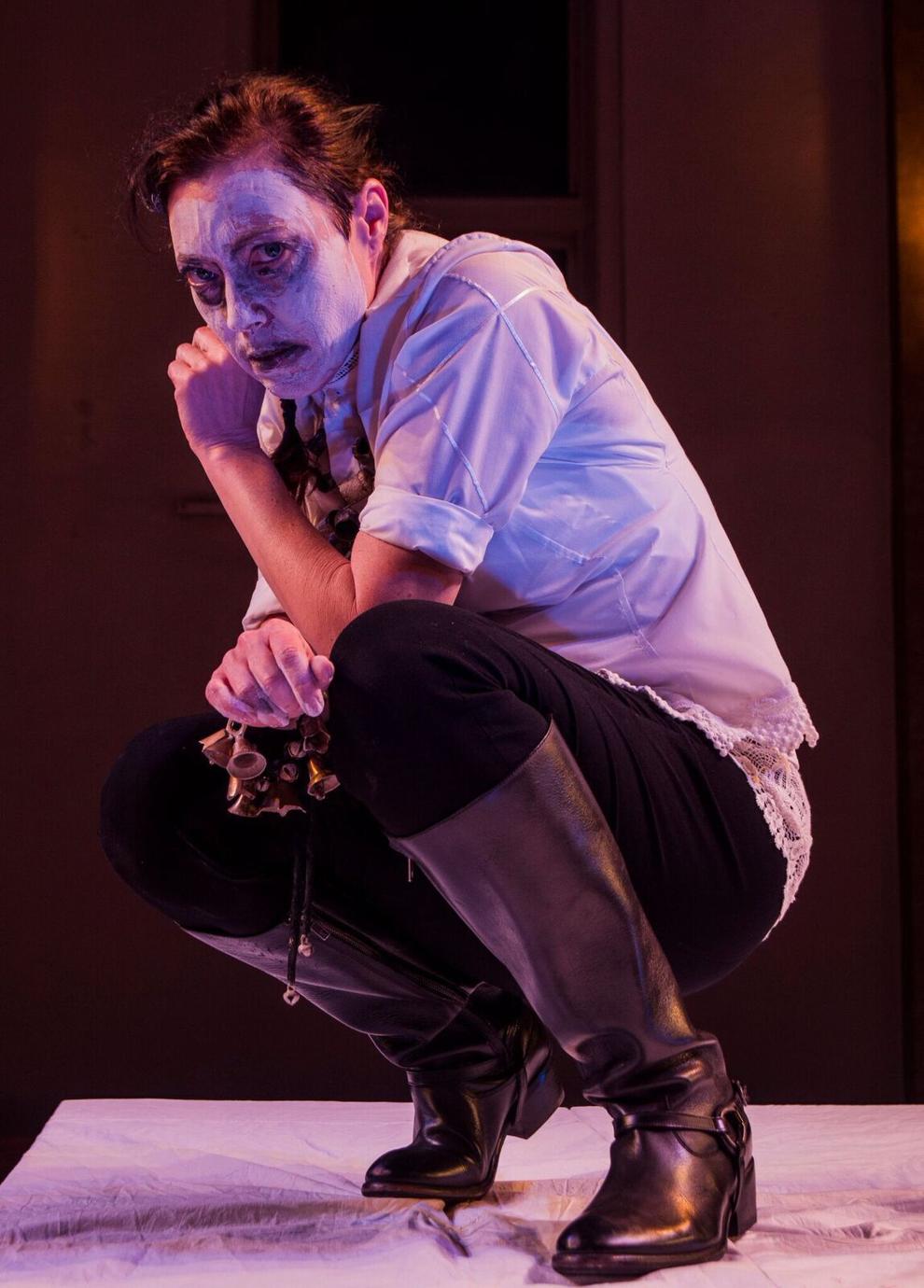 When Raymond Bobgan took over as executive artistic director at Cleveland Public Theatre in the Gordon Square Arts District of Cleveland in 2006, he told his colleagues, "Let's stop trying to compete with the LORT (League of Resident Theatres) houses in town – the Cleveland Play House, Great Lakes Theater – and let's be good at what we do … work that nobody else in Cleveland is doing" that is rooted in a vision of urban revitalization. "And, a critical component of what we do facilitates a sense of community gathering," he said. It is this same mission that is getting the CPT through the pandemic.
Canceled were two plays in production – an all-Spanish language production of José Rivera's "Marisol" and the world premiere of Nikkole Salter's "Breakout Session" – as well as the upcoming production of India Nicole Burton's "Panther Women," which has been in development for over a year. Canceled was Nina Domingue's solo piece, "The Absolutely Amazing and True Adventures of Ms. Joan Southgate," and Bobgan's own "Candlelight Hypothesis."
But moving forward, CPT is navigating in the internet world while still creating a sense of audience intimacy and making work that continues to be community-rooted. "And we are adamant," says Bobgan "about keeping everything live rather than recorded."
Among the new initiatives is a Zoom sharing of the pieces and parts of "Candlelight Hypothesis," which is being performed by Bobgan and fellow artists Holly Holsinger and Faye Hargate. There's also a virtual restaging of "Frankenstein's Wake," the critically acclaimed adaptation of Mary Shelley's masterpiece that revives the tour-de-force performance by Holsinger.
"Though we cannot gather in person," states the CPT Fall Season brochure, "we can come together as a community to experience and celebrate the power of live art."
Karamu turns lemons into lemonade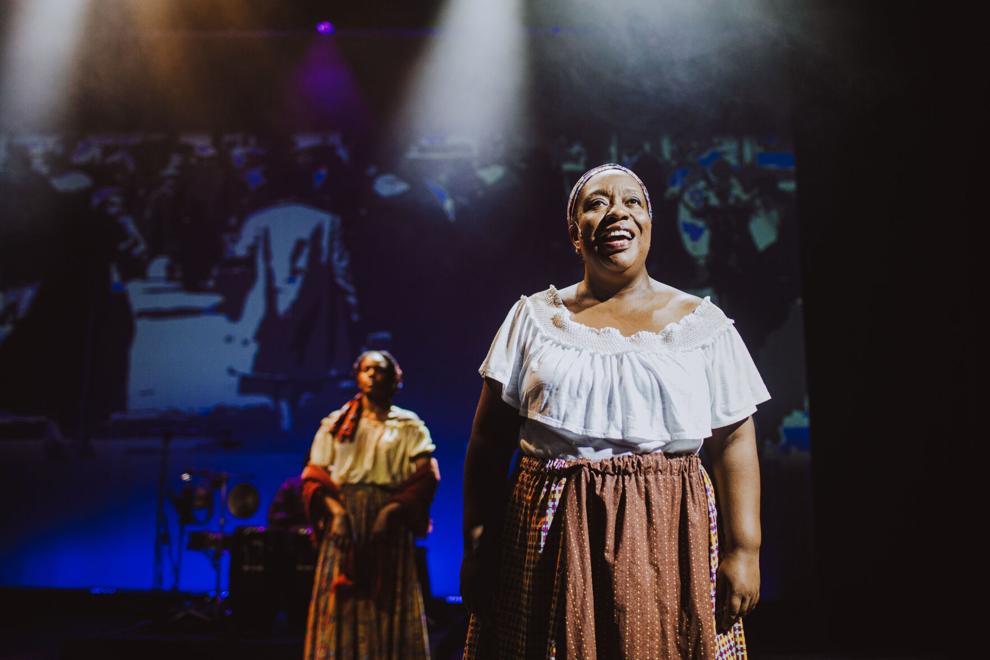 Since 2015 – upon taking over as president and CEO of Karamu House, Inc., America's oldest, producing African American theater – Tony F. Sias has turned obstacles into opportunities. But in light of the current pandemic, some tough decisions had to be made first.
Karamu, located in the Fairfax neighborhood on the east side of Cleveland, immediately canceled what remained of its 2019-2020 main stage season, which included the regional premiere of Katori Hall's "Hoodoo Love" and its production of Brian Yorkey and Tom Kitt's "Next to Normal." Forty-eight freelance artist contracts were annulled, though artists received compensation for the work that had been done to date. All educational programming on site was suspended.
On to the opportunities.
Since June, Karamu House has been producing and streaming on social media – including Facebook and YouTube, as well as video platforms like Vimeo, Roku and Fire TV – an original theatrical series called "Freedom on Juneteenth." The show, written by local playwright Latecia Delores Wilson and directed and produced by Sias, was created in response to current issues associated with social justice faced by Black Americans. To date, the series has reached more than 100,000 households across the country. A third episode was launched on Oct. 29 and focused on the importance of the Black vote, and a fourth episode will premiere in November or December.
"We are a celebrated, historical, legendary organization," says Sias. "As such, we have always asked ourselves 'how do we not just survive but thrive?' And the answer has always been and continues to be innovation and resourcefulness."
Maelstrom turns art into a 'theme park ride'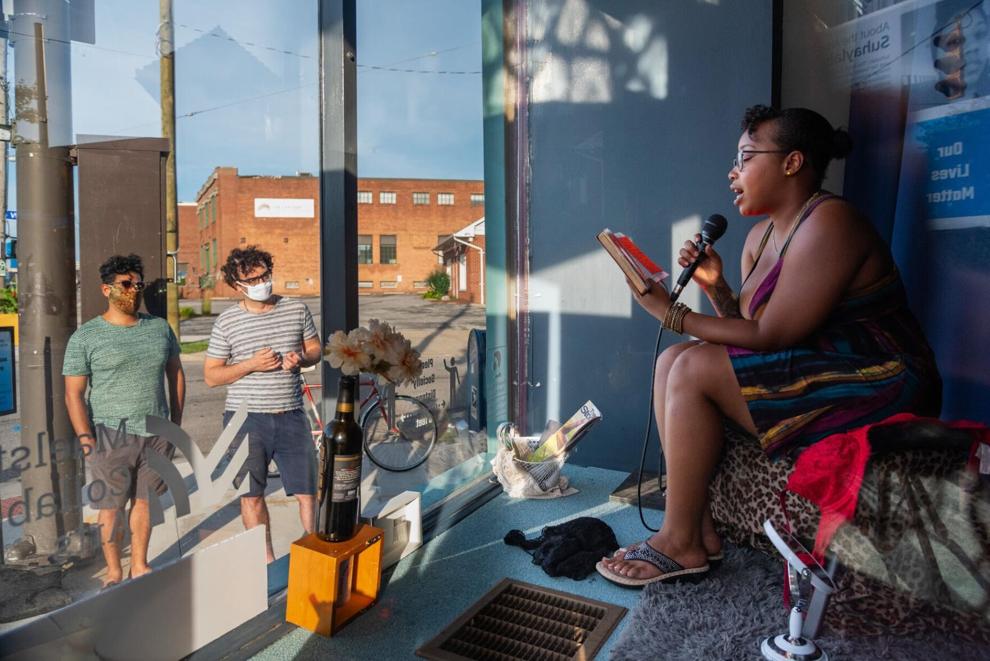 Maelstrom Collaborative Arts in Cleveland is dedicated to serving the growth of innovative artists at the borders of diverse genres, disciplines and media. And, during the pandemic, it has been finding ways to bring together audience members and artists in a live experience – without actually being together.
This summer, MCA orchestrated "Activate: Storefront Window Residencies," a six-week-long series of free physically distant and socially relevant performances and art shows that placed artists behind window glass and before an outdoor public at the company's storefront headquarters in Cleveland's Gordon Square.
This autumn, MCA created "The Wandering," an immersive, interactive pseudo-performance that tells the story of a group of strangers brought together under mysterious circumstances that was experienced one patron at a time.
"Our compromise," says Executive Artistic Director Jeremy Paul when referring to COVID-19, "is a kind of art-gallery that is structured in a theatrical way, almost like a theme park ride or haunted house. We're working with over 30 artists – some visual artists, some performers, some writers and filmmakers – to lead the audience through a shared dreamscape that explores themes of connection/disconnection, individualism vs. collectivism, resilience, mourning, and use of artistic metaphor to reframe our lives."
Connectivity director Marcia Custer adds that "we also began coordinating pen pal letter exchanges, artist potlucks and creative meet-ups on Zoom, where artists can continue to connect and support one another."
CPH relies on teamwork and community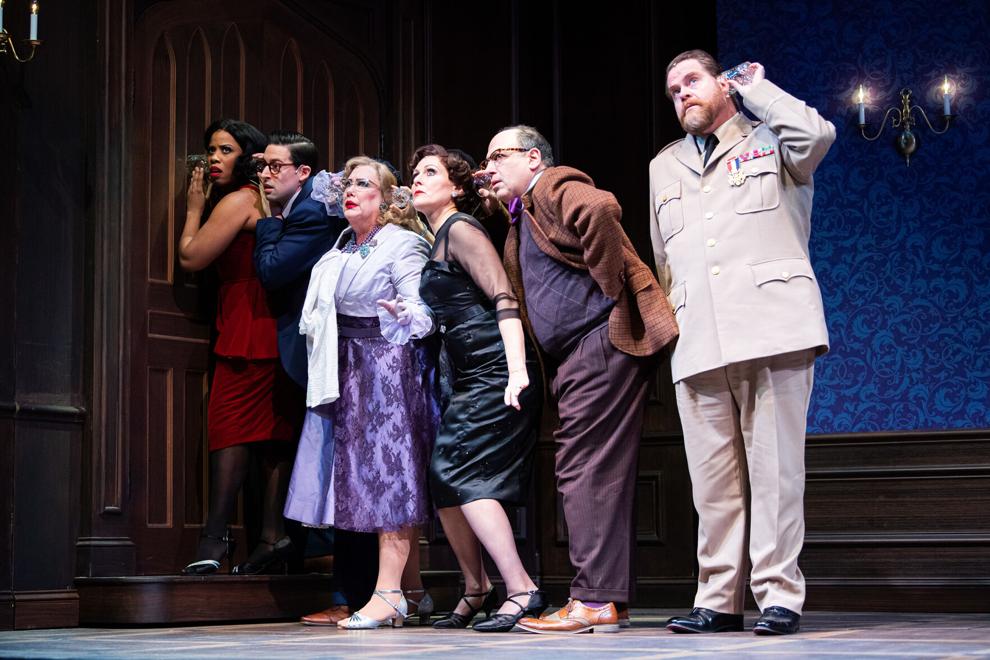 Playwright George Brant's comedy "Into the Breeches!" takes place during World War II and is inspired by how the Cleveland Play House refused to discontinue production so to keep the theater up and running. How ironic that Brant's wife, Laura Kepley – who is the artistic director for the Tony Award-winning theater – is working hard to do the same in the face of the current crisis.
"On Thursday, March 12," she recalls, "the senior staff and I sat in the conference room and watched on television as the governor announced the closing of the schools – we have a staff of 25 full-time theater educators who work in 16 different schools – and then the banning of public gatherings. It was the most surreal, unsettling, gut-wrenching time of my professional career."
The CPH was just ending its second week of rehearsals for "Antigone" in downtown Cleveland's Outcalt Theatre, which involved local actors and those from around the country. The set was built and loaded into the theater space and the costumes were half-completed. The show, along with other enterprises, was canceled.
Several things have proven to be the theater's salvation. Over 80% of the theater's loyal subscribers have refused a refund for the season. The theater's team of educators immediately pivoted its instruction to online learning without missing a beat. And, in October, an online fundraiser was held – a reunion of the cast of CPH's box-office hit "Clue: A New Comedy," who performed their favorite Broadway show tunes – to support the theater's artistic and educational programs during its 105th season.
And the CPH has been active in staying in contact with theatergoers and theater artists through its e-newsletters, by offering webinars featuring performers from its canceled productions, and generating interactive virtual web conversations called "Theatre Thursday" that are hosted by Kepley and CPH artistic director fellow Stori Ayers, and feature local actors and designers.
Dobama Theatre takes an intermission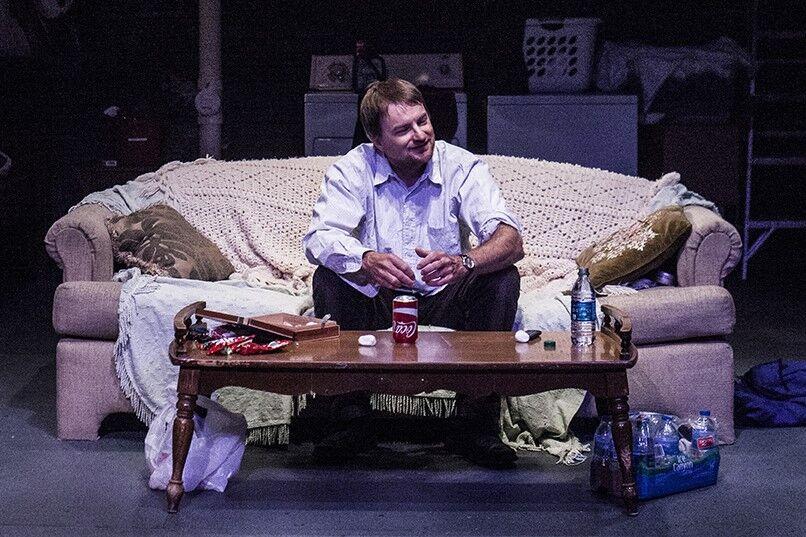 As for Dobama Theatre in Cleveland Heights, it has declared the 2020-2021 season the "Year of Intermission, Transition and Transformation." Beginning this fall, the theater company released online a series of short films produced by Brian Devers called "The Soliloquy Project," which feature the performance of memorable monologues by notable contemporary playwrights from previous Dobama productions. And coming in March 2021, there will be the online launch of a filmed version of Greg Vovos' "How to Be a Respectable Junkie," a one-person play starring Christopher Bohan that was developed and received its World Premiere production at Dobama in 2017.
Motta's letter ends with: "We will do all we can to emerge from this difficult situation a more focused and centered arts organization." That seems to be the shared sentiment across Northeast Ohio's creative community.
A selection of virtual performing arts events
• The third Thursday of each month "Theatre Thursdays" is livestreamed on Zoom by Cleveland Play House. Cost: Pay what you can, starting at $5. Tickets: Visit clevelandplayhouse.com/theatre-thursday.
• Through Dec. 10 at 7 p.m.: "The Cleveland Orchestra: In Focus," an original series of digital concerts performed at Severance Hall that can be streamed on-demand. These programs were curated to showcase the intimate and transparent chamber music qualities of The Cleveland Orchestra and include musical selections by Beethoven, Mendelssohn, Mozart, Tchaikovsky and others. Call 216-231-1111 or visit clevelandorchestra.com for more information.
• Nov. 27, 28 and Dec. 2, 3, 10, 11, 17 and 19, at 8 p.m.: Cleveland Public Theatre presents "The Loush Sister's Pay Per View." Created by Liz Conway, Michael Seevers Jr., and Beth Wood, and performed by Conway and Wood, this "bawdy, boozy, over-the-top holiday celebration" features Holly and Jolly Loush in their deeply anticipated return. Visit cptonline.org.
• Nov. 30 at 7:30 p.m.: Les Délices' SolonEra: "Unwritten Traditions." Masters of improvisation Robert Mealy, Shira Kammen, Priscilla Herreid and Mark Edwards talk about their work and inspiration in reconstructing lost musical traditions.
• Dec. 14, 2 to 6 p.m.: "WINTERTIDE at Gordon Square," presented by Detroit Shoreway Community Development Organization in collaboration with Cleveland Public Theatre. This free, all-ages, arts-infused festival is virtual this year and features local businesses paired with neighborhood arts organizations presenting live performances. Visit dscdo.org/event-calendar/wintertide-at-gordon-square for more information.
• Dec. 14 at 7:30 p.m.: Les Délices' SolonEra: "Medieval Christmas." Members of Blue Heron (Scott Metcalfe, director) and Trobàr (featuring Elena Mullins and Allison Monroe) deliver "a captivating mix of mysticism and merriment." 
• Dec. 2020 – April 2021: Apollo's Fire 29th season. The Baroque Orchestra will be performing its concerts live and virtually. Visit apollosfire.org for more information.
• May 2021: Cleveland Play House's New Ground Theatre Festival. CPH's annual celebration of new works will highlight commissions by George Brant, Vichet Chum, Jessica Dickey, Chelsea Marcantel and Charly Evon Simpson. Visit clevelandplayhouse.com/ngtf for more information.