Martin Gecovich of Beachwood became distraught while attending a Cleveland Indians' game July 23 at Progressive Field when he and his children were seated behind a shirtless man who displayed two swastika tattoos on his back. 
Gecovich tweeted a photo of the tattoos at the Cleveland Indians' Twitter account. One tattoo, located on the back of the man's neck, portrayed an eagle holding a swastika and the other tattoo, off-center of the man's lower back, portrayed a train with a swastika on the front.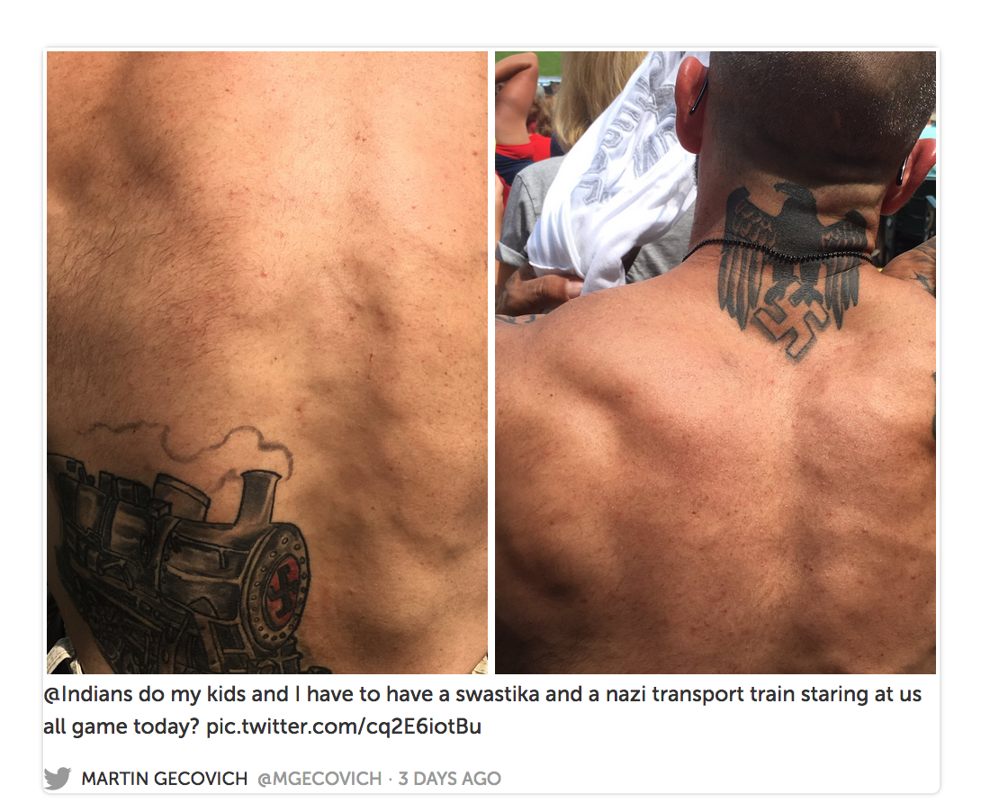 When contacted by the Cleveland Jewish News, Gecovich declined to comment, other than stating that he fears for consequences.
"I think what (the tattooed man) did was protected under the law, it's under freedom of speech," said Anita Gray, the regional director of the Anti-Defamation League. "But it doesn't make it right."
The tweet created discussion online with some claiming the shirtless man had the right to show his tattoos. 
David Malik, a civil rights attorney, and Aaron Minc, an internet defamation attorney, both said the man has the right to show the tattoos to practice his freedom of speech unless it goes against Progressive Field's rules of conduct.
"I think an argument could be made that it's a public place with rules of conduct, legitimate rules of conduct, that may end up resulting in the individuals expulsion from the place," Malik said. 
According to the security policies on Progressive Field's website, anyone using "abusive or inappropriate language, conduct deemed disorderly, unruly or disruptive including inappropriate dress may constitute grounds for ejection." The ballpark policies do not say if a shirt has to be worn, but staff will intervene if there is "obscene or indecent clothing."
Gecovich brought attention to Progressive Field through his tweets, which also gave the seat location of the man with the tattoos.
"(Gecovich) was contacting guest services about it, which is what the policy guide states on (Progressive) Field's website," Minc said. "If you're having an issue, it's suggested that you report it. One of the ways to do that is through the twitter account."
Malik and Minc also said Gecovich had the right to publish the photos on Twitter because the tattooed man voluntarily took his shirt off, which revealed his tattoos, and Progressive Field is owned by Cuyahoga County, making it a public location. 
"The policies of Progressive Field allow for people to bring cameras in and to take photos." Minc said. "As long as you don't use them commercially, no one has a problem with it. You're allowed to take photos at the game and you kind of know that it's an assumed risk that people are taking photos and you can be 'Photoshopped' in a public area like a public ball park."
Some compared the offensiveness of the swastikas on the man's back to Chief Wahoo, one of the Cleveland Indians' logos, which Gray didn't see any connection to in this situation.
"It wasn't the Indians, the Indians didn't do this," Gray said. "Why bring in the Indians? Do I think Chief Wahoo is wrong? I find it an offensive logo. But I understand the Indians are dealing with that in their own way."
The Cleveland Indians declined to comment. 
Gecovich has since deactivated his Twitter account.
---
Publisher's Note: Aaron Minc is a member of the Cleveland Jewish Publication Company Board of Directors.