A football-themed birthday party near Cleveland isn't complete without some Cleveland Browns pride.
For most, that means putting on the orange and brown and propping up a player's cardboard cut-out. But for Ezra Rosenblatt's 5th birthday party, his cardboard cutout was a little more life-like.
Intermixed among the nearly 40 attendees gathered for the birthday at Gross Schechter Day School in Pepper Pike was Cleveland Browns kicker Greg Joseph, otherwise known to Ezra as the "Browns' Jewish kicker."
So, how does an NFL player end up at a 5-year-old's party? It started with a shot in the dark from Ezra's mom.
In the days leading up to Ezra's June 2 party, Dr. Brooke Lampl Rosenblatt was prepping for the event when she got the idea to invite Joseph to the party. In her message, she noted that nearly all of the 25 children going were Gross Schechter students, hoping it would resonate with Joseph as he played football and soccer at Donna Klein Jewish Academy in Boca Raton, Fla., and also attended American Heritage School in Delray Beach, Fla.
"I know Greg Joseph is Jewish and went to Jewish day school, so I thought, well, you know maybe I'll just take a shot in the dark and try to message him on social media," said Lampl Rosenblatt, who attends B'nai Jeshurun Congregation in Pepper Pike. "I did it thinking maybe because of the Jewish day school connection, he would come."
To her surprise, he responded the next day.
"He said, 'Should be able to make it and make some kids happy,'" Lampl Rosenblatt said.
It seemed unbelievable to Lampl Rosenblatt that Joseph would show up the day of the party, and as such, she said she had some doubt he would be there. Before the party started, she received a message from him that he was running a little late, but he was on his way. She told him there was no pressure for him to stay for the whole party, but he said he was there for Ezra and stayed for almost the entire two-hour party and played football and other games with the kids.
Ezra said he was "excited" to have Joseph at his party. As a birthday present for Ezra, he signed a Cleveland Browns hat and wrote, "Never forget where u come from" next to a Star of David.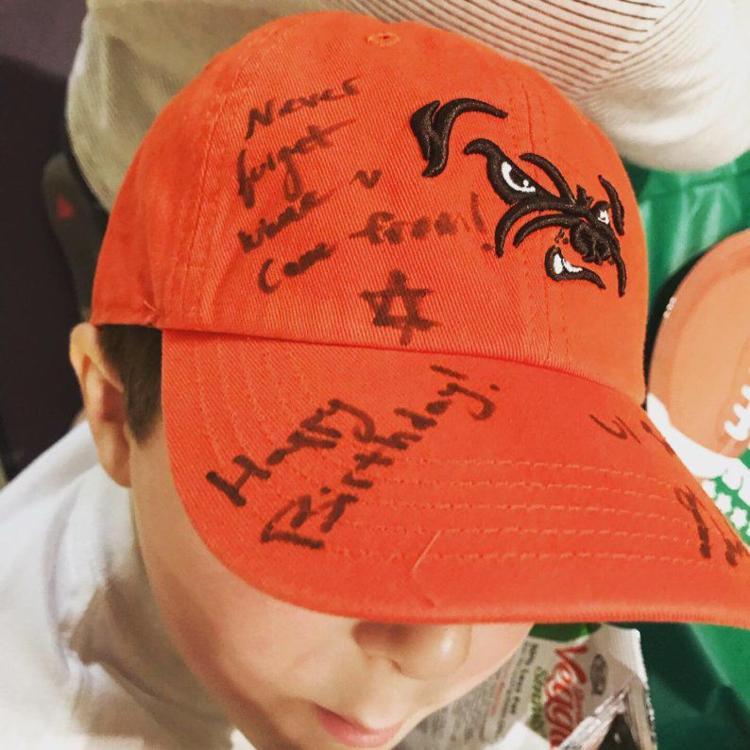 "He was just really open and nice, he was very humble," Lampl Rosenblatt said. "He said he was so happy we invited him."
While having an NFL player at a child's birthday party is an unforgettable moment in itself, Lampl Rosenblatt said what Joseph represents is something that can resonate with the Jewish day school students.
"He's a real mensch of a guy for showing up," she said. "It's very unique and special that he's a Jewish football player, right? We don't know that many Jewish professional football players. ... I think that it just shows your kids that if there's something that they want to do, even if it's not typical, they can do it."