Jewish Family Service Association of Cleveland celebrated its move into a new building and showcased the work it does in the community with video testimonials and awards to employees and volunteers at its 144th annual dinner Dec. 5.
Jeffrey M. Kahn was honored for his multiple roles in bringing the building at 29125 Chagrin Blvd. in Pepper Pike to fruition with the Anne C. Schwartz Leadership Award.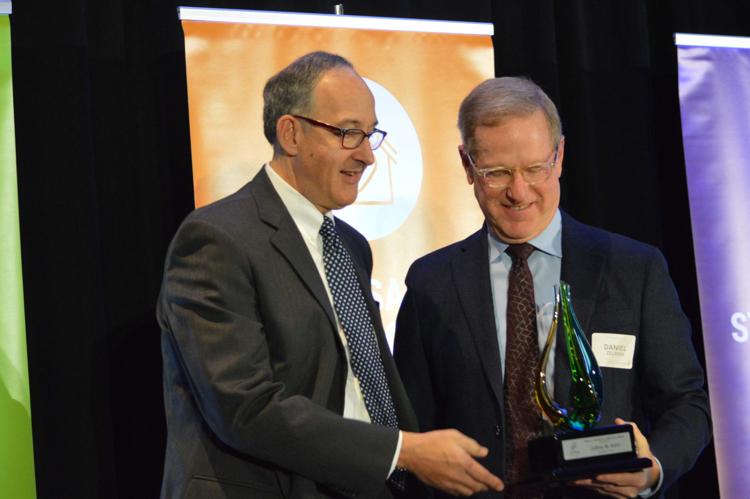 "We're proud of the fact that JFSA is the single largest local recipient of funds from the campaign," Erika Rudin-Luria, president of the Jewish Federation of Cleveland, said in her greetings. "The 2019 allocation totaled over $2.7 million. Your Federation's campaign is what allows us to plan for and support the most vulnerable members of our community served by JFSA and other partner agencies."
Rudin-Luria said she spoke with a young woman who had been helped by JFSA at her lowest point in life.
"Then, when she felt stronger, she went back to JFSA and asked them if she could repay for all of the services she received. And she was told, no. This is simply what we do for our community. Well, from my experience working closely with JFSA for almost two decades, I will say that there is nothing simple about it. And this year was no exception."
Rudin-Luria also praised the new facility.
"This beautiful and warm space showcases your dedication to serving our community with dignity and enhances your ability to do so with everyone under one roof," she said.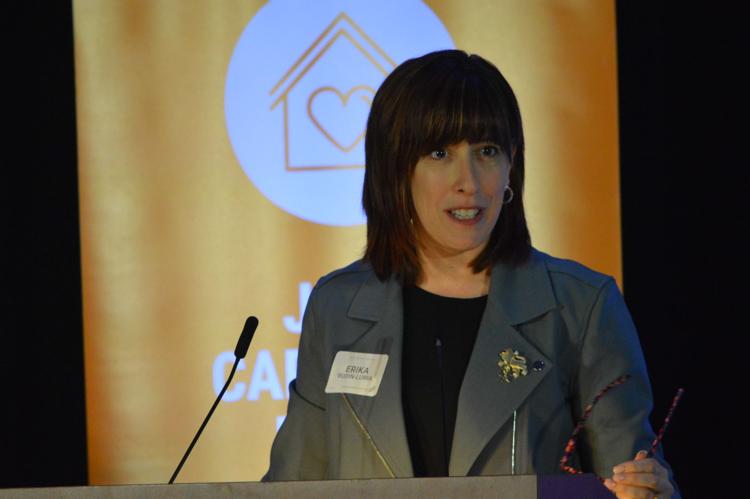 Eric D. Fingerhut, president and CEO of Jewish Federations of North America, opened with praise for present and past leaders of the Jewish Federation of Cleveland, specifically Stephen H. Hoffman and Rudin-Luria, whose leadership he called "extraordinary," and for Michelle Hirsch, who serves on the JFNA board and served on the search committee to hire him. He praised Kahn, the night's honoree as well, calling him "a humble man." Fingerhut also named four public servants in attendance.
Finally, he recognized Mario Tonti, president emeritus of Beech Brook in Pepper Pike, whom he called a mentor in social services.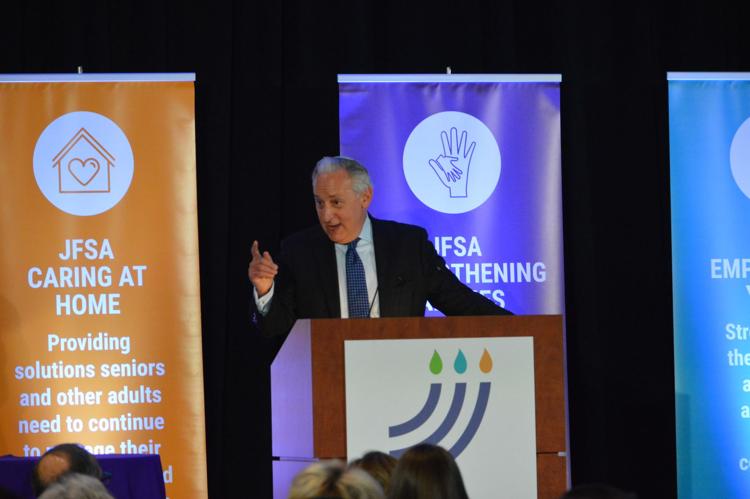 Fingerhut spoke first of his mother, Alice Fingerhut, who was in attendance and lives in University Heights, where he grew up.
"Thank you for giving me a date night with my mother," Fingerhut said. "I appreciate it. It means a lot."
Fingerhut began his formal remarks with what he called his favorite "Wise Men of Chelm" story. In the story, two men are walking down the street. One of them has an umbrella. It begins to rain. When the first asks the second to open his umbrella, the first says it will do no good because of the holes in it.
"So why'd you bring it?" the first asked the second, Fingerhut said. "I didn't know it was gonna rain."
There were laughs.
"Here in Cleveland, we know it's going to rain," Fingerhut said. "And we carry our umbrellas. And we make sure they don't have holes."
He called JFSA "the umbrella of our community. You're providing the care. You're providing the support that we need, that we absolutely cannot live without."
Fingerhut spoke of the Yom Kippur synagogue shooting in Halle, Germany, in which two bystanders outside were shot and killed.
"Not a single one of the worshipers in the synagogue was harmed," he said. "Indeed the attacker never even made it inside the synagogue."
Fingerhut said locally raised funds went through the Jewish Federations of North America to the American Jewish Joint Distribution Committee, "which actually helped the community in Halle, Germany, revive itself after the fall of the Iron Curtain.
"This was, after all, a relatively small community that had been very deep inside East Germany, which after the reunification of Germany did not have a significant economic revival," he said. "It was your funds that you donated that went to Hillel that created the base, the center for Hillel in Berlin, that organized 20 students to go to Halle, Germany, on Yom Kippur to help lead the services and to bring ruach, bring spirit, to that community, which after all had dwindled and was very small and didn't have the skills to lead the service.
"It was your donation that came through your campaign…. that we sent to the Jewish Agency for Israel that identified the security needs in Halle, that installed a secured door on the synagogue, that kept the gunman out. He was literally shooting at the locks on the door. And the door didn't budge because it was a reinforced door that your funds helped provide. I saw personally the bullet holes on the door. It was your funds through JFNA that went to The Jewish Agency that bought security cameras that were outside the synagogue door. … They put in place protocols that you had trained them on because of the funds that came through this community through JFNA to The Jewish Agency. And 80 Jewish lives were saved on Yom Kippur."
Jewish Family Service Association of Cleveland 144th annual dinner
Fingerhut spoke of the importance of federal funding for JFSA and how Federation helps.
"Your campaign dollars support an office in Columbus that works every day on Medicaid regulation, on the state budgets, today led by Howie Beigelman (executive director of Ohio Jewish Communities)," he said. "That's the work of federations. And your Federation also supports an office in Washington that I have the privilege of supervising that is engaged every day in the federal level of this work."
He also recognized the direct support of donors to JFSA.
"So I want you to know that I had a chance to visit your beautiful new building today, and Susan (Bichsel, president and CEO) and Ginny (Galili, executive director) and others showed me around," he said. "And that there's no question in mind that those who enter through those doors that you created through this communal campaign of the Federation and through the support that we get from our public officials and your individual donations – this incredible facility that you have built, this is shar hashamayim. This is the gates of heaven.
"The people who walk through those gates will know that they are being welcomed by a community and by an organization and by caregivers who are truly inspired by their work and inspired by that moment and are in awe of the place they are and the place they get to be," he said.