The John Carroll University Annex, which is the former site of Temple Emanu El in University Heights, is for sale.
The 29,645-square-foot building is on 5.41 acres at 2200 S. Green Road, according to its listing at Allegro Real Estate Brokers & Advisors of Cleveland.
No price is listed for the parcel and building. The building has multiple tenants, including Jewish Family Experience, which holds services on site.
"Prime redevelopment site located in a densely populated suburban neighborhood. Ideal for multi-family or senior housing development," the executive summary reads. "Existing structure usable for school, daycare or religious purpose. Amenities within walking distance include Heinen's grocery, CVS pharmacy, veterinary clinic, dentist, gas stations, dry cleaners, over 10 restaurants including national chains and local operators, liquor store."
The site has 410 feet of frontage and is a block from bus lines running north-south and east-west, according to the listing.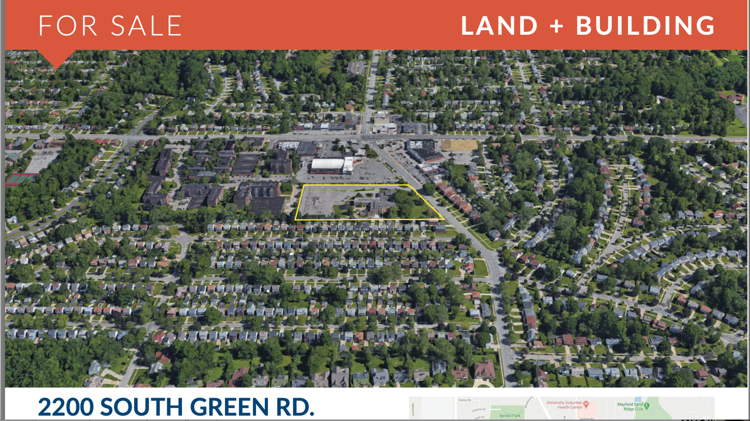 The building dates to 1965 and was sold to John Carroll University by Temple Emanu El in 2008 for $2.8 million, according to the Cuyahoga County Auditor's website. At the time, the building was valued at $1.89 million and the land was valued at $351,000, leading to a total value of more than $2.42 million.
Scott Garson, senior manager at Allegro Real Estate Advisors and Brokers, said Jewish Family Experience would be able to remain for the terms of its lease.
"They have a current lease," he said. "And their lease terms would be recognized. Any time a property is sold, those leases would not change as a result of a sale."
Garson said John Carroll University listed the property less than a month ago and there has been interest in the site, which is zoned U-4 multifamily.
"That wouldn't preclude the existing building from remaining," he said. "How someone would want to use it is up to them," Garson said there is a lot of interest in the property.
"I think if you had 5.4 acres in any inner-ring suburb in this dense of an environment, you'd have interest," he said.
Several apartments, kosher restaurants, kosher butchers and Jewish-owned businesses are within walking distance of the building.