Hunting Valley residents JoAnn and Bob Glick have donated $42 million to the MetroHealth System, making it the largest gift in the Greater Cleveland health care system's history.
The gift will be used to establish the JoAnn and Bob Glick Fund for Healthy Communities that will support programs promoting the health and well-being of Greater Cleveland's under-served communities with an emphasis on women and children, according to a news release. The gift will also create the JoAnn Zlotnick Glick Endowed Fund in Community Health Nursing that will aid educational and research opportunities for nurses, assist initiatives seeking to minimize the gaps in health care delivery through the use of innovative systems and develop a professorship at Case Western Reserve University's Frances Payne Bolton School of Nursing.
The donation is believed to be the third-largest gift from individuals to a public hospital in the United States, according to MetroHealth.
In honor of the gift, MetroHealth's new main hospital on West 25th Street in Cleveland will be named The MetroHealth Glick Center.
"We've got amazing health care institutions in the city, but Metro's mission was really our mission," JoAnn Glick told the Cleveland Jewish News. "We just felt that it was a good place to invest."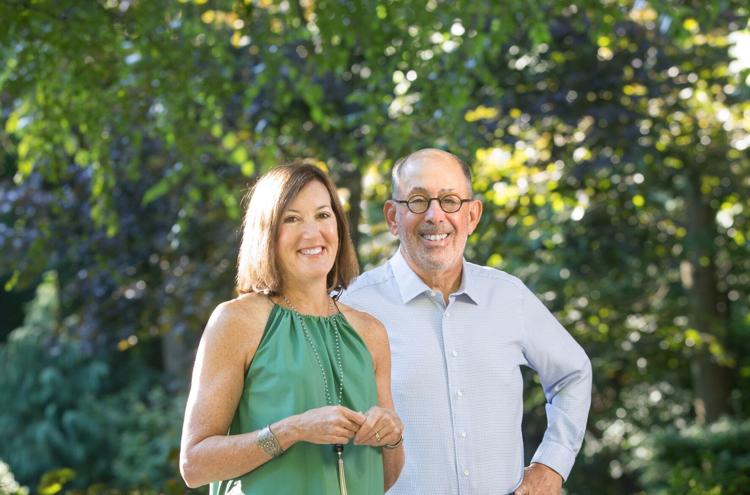 JoAnn Glick is a registered nurse who worked in inner-city hospitals in Philadelphia and Cleveland, and has years of experience pushing for nurses' advancement, according to the release.
Bob Glick is the founder and former CEO and chairman of Dots LLC, a specialty women's apparel chain that had 400 locations across the country when he sold the company after 36 years in 2011. The couple belongs to The Temple-Tifereth Israel in Beachwood.
Longtime advocates for eradicating health inequalities felt by Greater Cleveland's communities, especially those experienced by women and children, the Glicks' relationship with MetroHealth started within the past couple years.
Bob Glick explained that after he and JoAnn set improving the health and wellness of the area's population as their philanthropic mission, they explored local health care systems and options. The couple started to research MetroHealth and were impressed with its values, leadership under CEO and President Dr. Akram Boutros and preventative health care model.
The Glicks' dive into MetroHealth – where they met professionals from the health care system and directly saw its impact on the community – grew their curiosity.
"The caregivers, the nurses, the doctors, the administrators, the housekeepers, anyone from their staff, they wake up every day wanting to help their patients, and they know who their patients are," Bob Glick told the CJN. "It's a team, but they want to help (patients) holistically. There's just something special in the DNA of this team."
Upon finding their "perfect match" with MetroHealth, the Glicks performed two test gifts to see how they would pan out, JoAnn Glick said.
The Glicks donated $250,000 each  to the Students are Free to Express program and the MetroHealth Autism Awareness Clinic in 2019. The SAFE program encourages children of all ages to express themselves through the arts as a way to treat trauma and stress experienced by children. MAAC evaluates children for autism spectrum disorders and stands not only as the lone clinic on Cleveland's west side to do so, but the sole clinic in Ohio that addresses Hispanic children's cultural and linguistic needs.
Thanks to the gifts, the SAFE program has extended into an elementary school and three high schools, while MAAC has cut the wait time for initial appointments to about four months – less than half the time it took previously – due to staff additions and telehealth appointments, according to the release.
"It was amazing that within a year period of our test gifts, there were already measurable successes," JoAnn Glick said. "Everybody we met at Metro was just so knowledgeable and passionate. We've been hoping that we can make an impact somewhere, and we felt this was a wonderful opportunity to do that."
The Glicks, together with Boutros and Kate Brown, MetroHealth chief development officer and MetroHealth Foundation president, came together to plan the Glicks' multimillion dollar gift, including the amount, funding recipients, goals and logistics, JoAnn Glick said.
To Boutros, the Glicks' extensive involvement and gift hold cherished meaning and go above and beyond what MetroHealth has experienced before.
"The personal involvement of JoAnn and Bob in understanding and really engaging with what MetroHealth is doing for the community and what our future looks like is really unprecedented," Boutros told the CJN. "We've never seen individuals who have taken this much interest in understanding what we're trying to do. They've spent hundreds of hours collectively working with MetroHealth to understand what we're doing. That interest itself is extraordinary."
The two funds created by the $42 million gift were devised using a combination of the Glicks' philanthropic mission and background with MetroHealth's dedication to the community's good health and well-being.
"It's not as if we've said the money goes to this specific program; it is about going to programs that will focus more on keeping people healthy, acknowledging the fact that it's not just about health care, but it's about their living situation, opportunities, food sources, their exercise, safety, housing, just security in every respect," JoAnn Glick said. "We plan to work with them over the years while we're alive, and hopefully our children after us will look at programs that fit our mission."
MetroHealth's once largest and now second largest gift was donated by Dr. Alfred F. Connors and Dr. Mildred Lam, two longtime MetroHealth physicians, in 2018, according to MetroHealth's website. The couple kept the amount of their gift anonymous. Connors and Lam's contribution created five endowed research professorships, one endowed teaching fellowship and served as the first lead contribution to MetroHealth's five-year, $100 million philanthropic campaign, "For All of Us."
With their gift, JoAnn and Bob Glick said they hope to spark change that's felt by MetroHealth, and for people to be able to see the impact of what a gift to the health care system can do.
"There's a big difference between Chagrin Falls and the city of Cleveland," Bob Glick said. "We all got lucky or unlucky as to where we were born, who our folks were, our opportunities and all that stuff. It's not a level playing field. We're trying to level it, but it's through no fault of their own that a lot of these needs have arisen and need to be served.
"... We just hope that people will consider not only what Metro does, but the unbelievable way in which they do it and give Metro a test drive. We're fortunate to be able to make the gift we are, but there's 10 times more that in the community that could come to Metro."
Boutros said the two funds will propel MetroHealth forward and allow others to adopt systems similar to help dismantle health inequalities.
"I think it will be seen as a catalyst to us presenting a new national model of health care, not sick care, that will improve the health of the communities and will be adopted by health systems near and far," Boutros said. "We hope it will also be the beginning of recognition by other individuals who see the gift as something they can also do."
Despite making a record-breaking donation, Bob said he and JoAnn aren't done with their philanthropy.
"In our hearts, we want to keep supporting Metro; we just have to figure out how," Bob Glick said. "You got to catch your breath at some point, because believe it or not, these are huge dollars, and my hand shakes when I sign the papers. But there are other things in the community that we care about. It's a little bit of stay tuned – it's clearly not a one-and-done, that's for sure."
MetroHealth's mission, according to its website, is leading the way to a healthier community through service, teaching, discovery and teamwork, serving Cuyahoga County. It is home to Ohio's only adult and pediatric trauma and burn center. In 2019, it provided more than 1.45 million visits for 298,000 patients, 64% of whom were uninsured or covered by Medicare or Medicaid, according to its website.