The Northeast Ohio sports scene lost an icon with the passing of Les Levine on Feb. 3.
Tributes came in quickly from colleagues and professional sports teams upon news of the death of Levine, a fixture on the sports scene for more than five decades.
Levine, whose career started in radio and then branched out to television, also wrote a weekly column for the Cleveland Jewish News and the Columbus Jewish News until his death at age 74, after a protracted battle with diabetes and Parkinson's disease.
Cleveland's professional sports teams – the Browns, Cavaliers and Indians – all tweeted condolences to Levine's family, as did Steve Stone, the former Major League Baseball player who grew up with Levine and frequently was the subject of his columns.
The Cavs tweeted Levine was "a remarkable human being and resounding presence in our community beyond sports. The 'voice of truth and reason' was at the core of the Cleveland sports journey that he shared with us with great perspective and passion for over half a century. …"
Rest in peace, Les. pic.twitter.com/YQKZUwjruz

— Cleveland Cavaliers (@cavs) February 4, 2021
The Browns tweeted: "… Not only was Les dedicated to covering Cleveland's sports teams for decades, but he consistently went out of his way to offer his own time and professional experience to benefit others. …"
Our thoughts are with the Levine family 🙏 pic.twitter.com/D5jyKNxMpd

— Cleveland Browns (@Browns) February 4, 2021
Bob DiBiasio, senior vice president of public affairs for the Indians, tweeted: "Our hearts ache w/the news of the passing of Les Levine, a friend and colleague for 40 years. He carved a special place in CLE sports scene w/ his unique style, sense of humor & kindness. Will miss our talks in @Indians press dining. …"
Our hearts ache w/the news of the passing of Les Levine, a friend and colleague for 40 years. He carved a special place in CLE sports scene w/his unique style, sense of humor & kindness. Will miss our talks in @Indians press dining. Sympathy to Allison and entire Levine family.

— Bob DiBiasio (@BDbaseball6) February 4, 2021
Curtis Danburg, senior director of communications for the Indians, tweeted: "Stunned and saddened to hear this news. A true Cleveland legend who will be missed. He was so passionate about @Indians organization and so supportive of me personally over the years. …"
Stunned and saddened to hear this news. A true Cleveland sports legend who will be missed. He was so passionate about @indians organization and so supportive of me personally over the years. My sincere condolences to the Levine family and his many loyal CLE sports followers. https://t.co/nwPVsAvd82

— Curtis Danburg (@TribeCD) February 4, 2021
Stone, a Cy Young Award winner for the Baltimore Orioles and now a broadcaster for the Chicago White Sox, tweeted, "He wasn't a Hall of Famer and he wasn't known on the national stage. He was a guy that was synonymous with Cleveland sports. We played ball together and grew up loving baseball. We shared our stories. Les Levine passed away last night. He touched a lot of lives. He was my friend." Like Levine, Stone grew up in South Euclid and graduated from Brush High School in Lyndhurst.
He wasn't a Hall of Famer and he wasn't known on the national stage. He was a guy that was synonymous with Cleveland sports. We played ball together and grew up loving baseball. We shared our stories. Les Levine passed away last night. He touched a lot of lives. He was my friend

— Steve Stone (@stevestone) February 4, 2021
Despite battling health issues, Levine was a familiar face on radio and TV and wrote his column until the end of 2020. Colleagues told the CJN Levine was one of a kind.
"Les Levine was an icon in our industry, a friend and mentor to many, and arguably the father of sports talk in Cleveland," Tom Herschel, senior vice president, market manager of Entercom Cleveland, told the CJN in a statement. "Far beyond that, Les was a man who loved his family, and in every way, put them first. We will miss him at 92.3 The Fan."
Andy Baskin, former WEWS sportscaster and host of Baskin & Phelps on 92.3 The Fan, where Levine often filled in on shows, tweeted, "There are no words to describe how much I loved @LesLevine. He is already missed."
There are no words to describe how much I loved @LesLevine . He is already missed. #parkonadrivewaydriveonaparkway #today

— Andy Baskin (@andy_baskin) February 4, 2021
Coincidentally, the time of death was 9:23 p.m.
Friendly face
Levine quickly befriended colleagues, especially young journalists and those new to the city. He always went out of his way to make them feel at home.
David Bacon met Levine when he was a reporter for Channels 19 and 43 and Levine was doing sports talk on radio. Bacon would see him at all the sporting events and press conferences.
Bacon left television in 1999 to work at Classic Teleproductions in Twinsburg, a company owned by his older brother, Mike. About seven years later, Bacon's and Levine's paths crossed again.
"Classic took over production of his show and then we were kind of reunited," Bacon, vice president of sports programming, told the CJN
Feb. 4. "He's a hall of fame broadcaster and deservedly so, even a better person. He was the guy that tried to make all of the younger people in the business comfortable and I'm sure you hear it time and time again.
"Any time you had a question about anything, you could talk to him. He always had time, just one of the nicest. He was genuine. With Les, it was very easy and very genuine."
Bacon said Levine had the three qualities needed to be successful in his field.
"He had the sports knowledge," Bacon said. "He was a genuine guy that was himself – the biggest thing is Les was always himself. He wasn't trying to be the sports master, the sports expert, he was Les. And the other thing was, he was a really good salesperson. And those are the reasons he's a hall-of-famer and that he could do sports his way for as long as he did."
Levine hosted and sold commercials for "More Sports & Les Levine" on Fox Sports Ohio, Cablevision, Adelphia, Time Warner and Spectrum Sports for more than two decades and most recently on Cleveland.com.
Hall of famer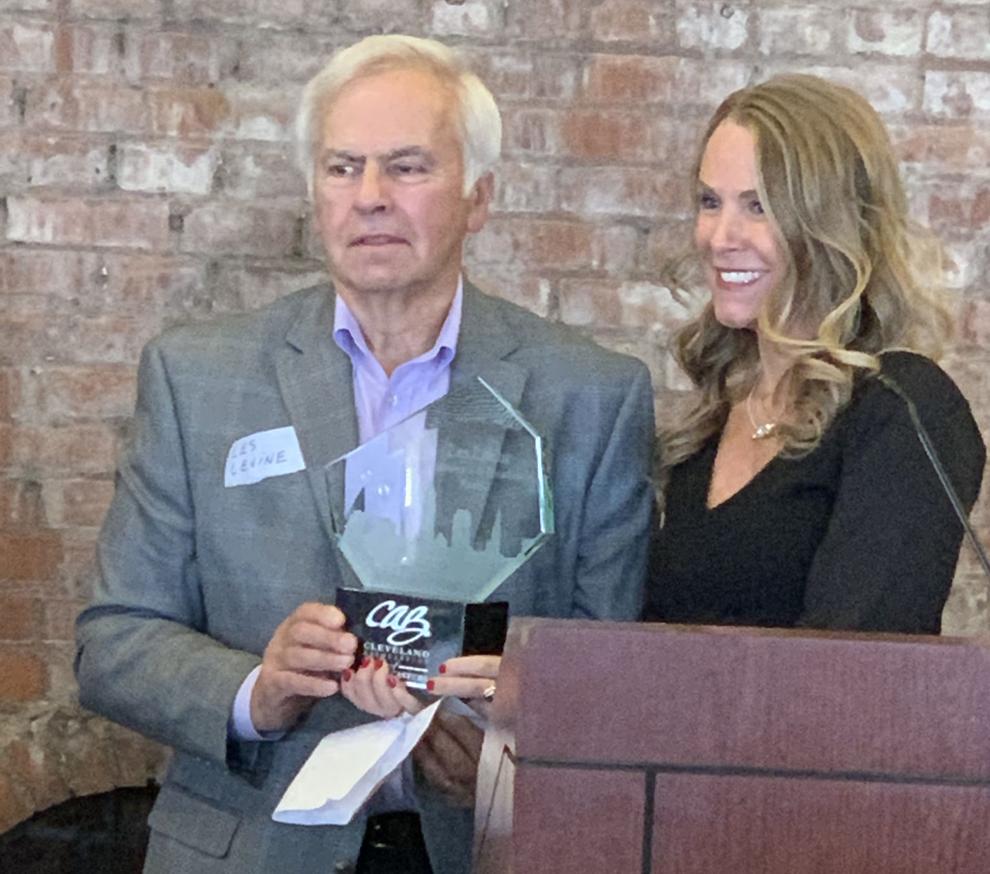 Levine was inducted into the Jewish Community Center Softball Hall of Fame, Radio & Television Broadcasters Hall of Fame in Ohio in 2006, Greater Cleveland Slo-Pitch Softball Hall of Fame in 2011 and received the 2019 Excellence in Broadcasting Award for Radio from the Cleveland Association of Broadcasters.
He was the vice president of the Greater Cleveland Sports Hall of Fame board of directors and served as emcee at its annual induction ceremony. Levine was the recipient of numerous radio, television and newspaper awards. He also wrote a column for The News-Herald in Willoughby.
As the self-proclaimed "voice of truth and reason," he made "how come quickies" a household phrase. One of his favorites was, "How come you park on a driveway and drive on a parkway?"
"Known for his quick wit, strong opinions and fantastic sense of humor, Les Levine was a trailblazing multimedia juggernaut on radio, TV, in print and on the internet," his family said in a statement. "In the early 1980s, Les was the first radio personality to invite local team beat writers and columnists on air to share their opinions – unheard of prior and now commonplace in today's multimedia world.
"His television show was the first sports talk show nationwide to break the fourth wall by inviting the audience to call in live on the air. Callers could now interact in real time with the host and special guests while Levine expertly conducted interviews with team owners, general managers, coaches, players and notable celebrities."
Levine joins CJN
After being a household name for more than four decades on television, Levine joined the CJN in October 2011 and became an award-winning columnist. His columns also started to appear in the Columbus Jewish News in 2018. His final column appeared Jan. 1.
Levine introduced his first column on Oct. 7, 2011, which was published on Page 1, by writing, "Today marks the beginning of the change for me from a lifelong reader of the Cleveland Jewish News to being a weekly contributor. Starting today, I will share with you my observations of the Northeast Ohio sports scene that have been gathered from a lifetime of sports participation, as a player, fan, and for more than 40 years, a member of the media covering sports on radio and television on a daily basis."
Levine also hosted the CJN's annual sports breakfast, "Les is More," where he discussed sports with a panel of sportscasters and the community. He also served as the emcee during the CJN's high school player of the week banquets.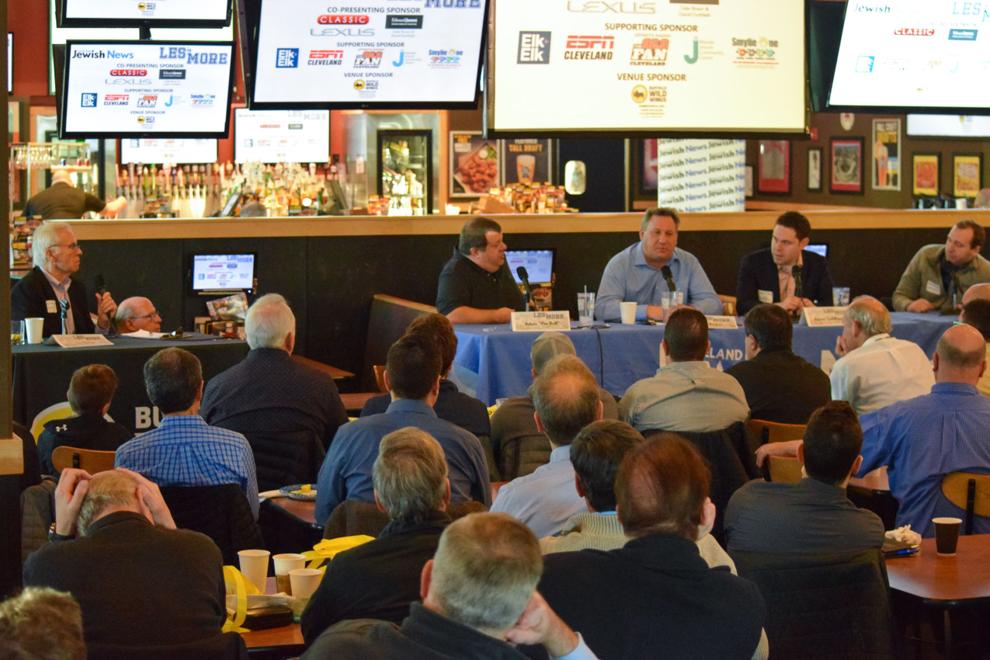 "So much has been written and said about my friend, colleague and idol since news of his passing surfaced last week," said Kevin S. Adelstein, president and publisher of the Cleveland and Columbus Jewish News and president of the Cleveland Jewish Publication Company. "The commonality in all those words explains the impact he has had on so many. If ever there was a mensch on this earth, it unequivocally was Les Levine.  
"One of my favorite stories Les shared with me over a breakfast several years ago at Corky & Lenny's was him expressing how much it meant to write his weekly column. He spoke of being on radio and TV for decades and how he'd be unrecognizable in public. But he sits down at a table at Corky's or Jack's Deli, and he'd be immediately recognized as, 'Hey, don't you write that sports column for the CJN?' 
"As Rabbi (Robert) Nosanchuk so beautifully said in his eulogy, our readers and our community cherished Les – and he them. I will truly cherish our many, many conversations we shared, and I will sorely miss him." 
Levine's print popularity was instant when he joined the CJN. Shortly after Levine arrived as a columnist, a woman came to the newspaper's office in Beachwood to tell an editor she had never followed sports until he joined the CJN and wanted to drop off a letter to the editor about him.
On one occasion, he was grocery shopping at Giant Eagle at Legacy Village in Lyndhurst when a woman came up to him saying she recognized him from the CJN.
Levine often joked about being able to use a grocery store's express line where a sign read, "12 items or less" – when he had a full shopping cart. Why? "Because the sign reads, "12 items or less," he would explain, and "I'm Les."
His wit was also seen when he closed his TV shows by saying, "Of all the shows I've ever done, this was the most recent."
As emcee at the CJN player of the week banquets, parents often wanted to take a photo with Levine and share sports stories with him as if they were lifelong friends.
Levine freely gave of his time to talk sports to organizations across Northeast Ohio. On one occasion, a speaker failed to arrive for a synagogue men's club program and a men's club officer who knew Levine called him to explain the predicament. Within minutes, Levine showed up to save the night.
How it began
Levine was a graduate of Brush High School in Lyndhurst and The Ohio State University in Columbus. He received a degree in political science and was certified to teach elementary school.
But his first love was always radio.
He enrolled in broadcasting school and answered an advertisement for a disc jockey at a radio station in Jasper, Ind. Even though he never heard of Jasper, he needed a job. Without a demo tape, Levine showed up at radio station WITZ, read some news stories and was told to start the following Monday in 1970. He played records and also did sports news.
In 1971, he returned to Northeast Ohio as sports director and sales manager of then-WKNT radio in Akron.
Among the stations he worked for were WKDD, WSLR, WWWE, WHK and WERE.
Levine broadcast Kent State University basketball and football games from 1974 to 1979 and Cleveland State University basketball games for
22 years. He also broadcast the Cleveland Crusaders of the World Hockey Association from 1972 to 1974, the Cleveland Thunderbolts of the Arena Football League from 1991 to 1992 and the Cleveland Jaybirds/Competitors of the American Professional Softball League.
Levine also did play-by-play for more than 2,000 high school, college and professional sports games. He did pregame and postgame shows for the Browns, Indians and Cavs for several media outlets.
"Levine's sum total of all broadcast hours on TV and radio in 50 years is the most prolific output of anybody in the history of Northeast Ohio, and quite possibly the world," his family said.
Most memorable call
However, his greatest broadcast moment may have been when he called play-by-play for Cleveland State's basketball team in 1986 when the "run and stun" Vikings coach Kevin Mackey advanced to the NCAA Sweet 16 in the school's first NCAA postseason. That road included a first-round upset of third-seeded Indiana University and coach Bobby Knight, 83-79, and kept fans across the country on the edge of their seats as the Vikings were dubbed the Cinderella team of the tournament.
The Vikings then upset St. Joseph, before falling to David Robinson and Navy on a basket with seconds remaining, 71-70. The Vikings – who almost no one had heard of outside of downtown Cleveland – had become a household name across the country, grabbing front-page headlines. And Levine had a front-row seat to this historic moment.
The Viking athletic department tweeted: "With heavy hearts, we join Cleveland sports media and fans in mourning the loss of Les Levine. A true legend and icon, Les was a member of our Cleveland State family for many years, (serving) as the 'Voice of the Vikings' for our men's basketball games, which included our 1986 Sweet 16 run. He was an incredible broadcaster and an even better person. …"
A rabbi's remarks
Levine and Allison, his wife of 21 years, were married at Anshe Chesed Fairmount Temple in Beachwood by then-Rabbi Lee Bycel.
Nosanchuk, senior rabbi at Fairmount Temple, told the CJN Feb. 4 that Levine was "such a decent guy and a force to be reckoned with in his industry, yet humble and kind."
He said during the COVID-19 pandemic, Levine volunteered his time for a temple question-and-answer session about the Indians.
"It turned into a whole conversation about Cleveland sports and it was very popular because people loved chatting with Les," Nosanchuk said. "He had great stories to tell, he had great predictions to make."
Levine, a Twinsburg resident, was diagnosed with Parkinson's disease in 2018. In 2019, he was the Parkinson Foundation's honorary walk chair.
"Nobody who is ever dealing with a debilitating condition wants to be defined by it, and Les didn't just say that, Les stayed engaged in the world and with his family," Nosanchuk said. "He was still up to doing such good things. He'll be missed – because if he hadn't died last night, he'd be anticipating what good things he cannot be writing about, but what he could be doing for others right now."
At the funeral service Feb. 7 – Super Bowl Sunday – Nosanchuk gave the eulogy.
"Over the recent days, as we all saw the many public tributes offered to Les Levine, a highly accomplished public persona, I kept thinking about the choices Les made in his lifetime and just how incredible it is that someone who colleagues and competitors, those with whom he had clashed, next to those whom he had mentored and encouraged over the past 50 years in broadcasting and sports journalism," Nosanchuk said. "These folks knew in Les the same qualities on a public scale that were true to those closest to him.
"He was the same man to them all, a source of protection, goodness, pride in his place on earth and no regrets that he didn't speak of and demonstrate during his life to those who were holding his hands the entire distance of his ride. What a treasure that is to know for those most immediately affected by his being missing on this first Super Bowl Sunday since there were ever Super Bowls."
Recalling how Levine closed his TV shows, Nosanchuk said, "Indeed, Les would want me to say that of all the funerals I have ever conducted in my entire career, this funeral is the most recent one."
Cleveland born, Cleveland bred
Levine was born Nov. 12, 1946, in Cleveland to Jack and Beverly Levine. Faye E. Levine was his stepmother. He grew up in South Euclid.
In addition to his wife, Allison (nee Skully), Levine is survived by: son, Jeremy (Melissa) (the late Allison); daughter, Jamie Levine (Elan) Daniel of Indianapolis; stepchildren, Adam Mesnick of San Francisco and Mara (Victor) Bendersky; grandchildren, Noah, Vida, Mayla, Leia and Mallory; and brothers, Stuart (Leslee) Levine and Bill (Nancy) Levine
Interment was at Mount Olive Cemetery in Solon.
Friends who wish may contribute to the Greater Cleveland Sports Hall of Fame (clevelandsportshall.com), InMotion (beinmotion.org) or Anshe Chesed Fairmount Temple (fairmounttemple.org).
Levine closed his initial column in the CJN by writing, "I have been the play-by-play voice of three teams that have folded under my watch and have worked for several radio stations that no longer exist. And I have faithfully followed sports franchises that haven't won a championship since 1964. Despite my history, I expect the Cleveland Jewish News will survive. And I look forward to being part of it."
In 2016, Levine finally witnessed another championship. When LeBron James and the Cavs stunned the world by coming back from a 3-1 deficit to upset the defending champion Golden State Warriors for the NBA Championship. Levine chronicled the team's success for the CJN.
"Les could be defined in part by a tenacious work ethic and dedication to his craft," his family said. "Yet he often said since he was fortunate to do something he loved, he felt he never worked a day in his life."