The 100 chairs placed in the entrance of the Joseph and Florence Mandel Jewish Day School in Beachwood were not enough to hold the parents, community members and alumni who gathered for the Nov. 24 unveiling of its newly renovated school building.
Originally scheduled for Oct. 20, the event was postponed after Morton L. Mandel died on Oct. 16. Just three days before the Nov. 24 debut, Morton Mandel's widow, Barbara A. Mandel, died on Nov. 21.
"I want to note that we are meeting today only days since the passing of Barbara Mandel," Eliana J. LeVine, president of the Mandel JDS board of directors, said at the Nov. 24 event. "Barbara was a national leader in the world of philanthropy and education and we join the Mandel family, as well as everyone who knew her and benefited from her vision and generosity, in remembering her with gratitude. I extend my condolences to her family and offer my heartfelt sympathies. The family asked that we honor her memory today by celebrating the dedication of this wonderful new building."
Noting her family moved to Cleveland in 1979, LeVine recalled entering what was then known as The Agnon School as a second grader.
At the time, the building was much smaller.
"A fun game I like to play with myself is to walk through the school now and try to orient myself, figuring out how the hallways and classrooms in today's building relate to the rooms I used when I attended Agnon back in the late '70s and early '80s," LeVine said.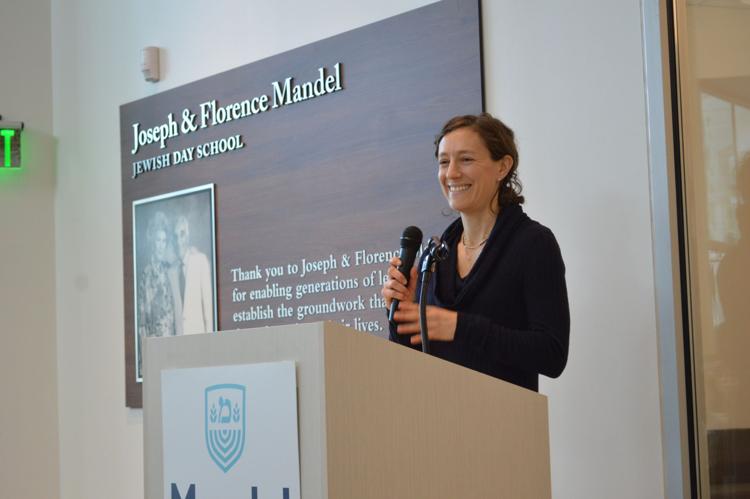 Noting the newly renovated fourth- and fifth-grade classrooms used to be a parking lot, LeVine said even the new upstairs office space holds fond memories "as the secret, upstairs library."
Describing herself as a "pretty sentimental person," LeVine admitted, "I wouldn't have thought that I would be happy about all the changes to the school I grew up in."
Looking back on those memories, LeVine said picturing the school's previous layout and seeing what it has now become brings her joy.
"I love the idea that all the different iterations and uses of rooms and hallways become memories layered on top of each other," LeVine said. "So that the building is growing in the same way that our children are growing, adding a layer of knowledge – or in the building's case, a layer of functionality – all contributing to the space we have today."
Thanking Morton Mandel, the Joseph and Florence Mandel Family Foundation and the entire Weinberg family, LeVine said the $2 million seed money Mandel JDS received from the foundation expanded the school's growth beyond just a new front entrance to include a new gym, middle school wing, lower level media center, office space "and very soon, new fourth- and fifth-grade classrooms."
"Another round of fundraising will provide similar upgrades to the early childhood area, the remainder of the kindergarten through third-grade classrooms and will renovate our kitchen and cafeteria," LeVine said. "Our goal is for the entire school's physical space to be worthy of the spectacular teaching, learning and nurturing that takes place inside it."
Jewish Federation of Cleveland President Erika Rudin-Luria asked for a moment of silence in memory of the Mandels – Joseph and Florence, Jack and Lilyan, and Morton and Barbara Mandel.
"It is fitting that we come together today to celebrate their memory and this treasure that Joseph and Florence Mandel and the Mandel family and Weinberg family have enabled," she said. "A beautiful building that houses a thriving Mandel Jewish Day School."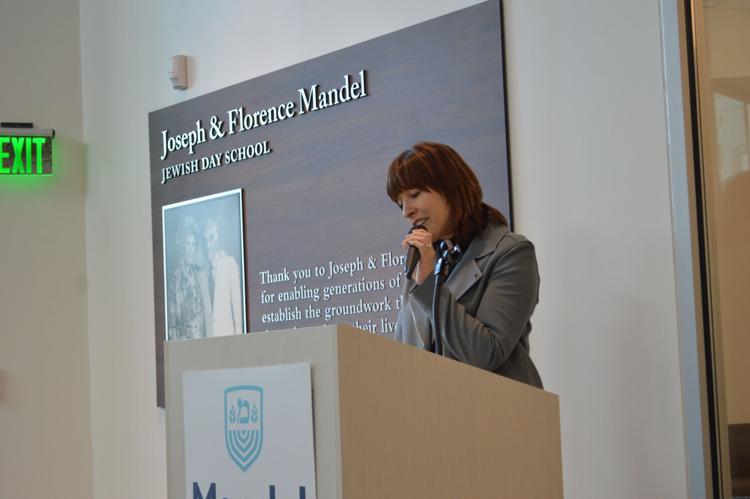 From project-based learning to Hebrew immersion at the youngest grades, Rudin-Luria described Mandel JDS as a leading, innovative Jewish day school with an incredible community supporting it.
"I would be remiss if I didn't mention the dedication of Mandel students, parents, alumni and leadership in the rest of our community," Rudin-Luria said. "One small example is that, this morning, I was at a meeting that was led by a Mandel JDS parent and then left that room to walk into a dial-a-thon, where several recent Mandel graduates were participating in their own team text-a-thon. But this is really no surprise, because participation and community is modeled and taught here at the Joseph & Florence Mandel Jewish Day School."
Penni Weinberg, daughter of Joseph and Florence Mandel, addressed the crowd on behalf of her parents.
"They would be so proud to have their name on this beautiful building," said Weinberg, holding back tears.
Describing herself as the proud grandparent of three Mandel JDS alums, one former student and two current students, Weinberg noted that, while her father never had a formal education, he understood the value of a Jewish education.
"He was beyond proud that his great-grandchildren attended this school," Weinberg said. "He would be so proud that his descendants were so instrumental in making possible this wonderful building. My father had great style, youthful energy and a lot of creativity and Mandel reflects this. So while we are all here today to celebrate this wonderful new building, we are also taking time to appreciate the value that Mandel JDS holds in our lives, and in turn, the belief that Mandel will continue to have such value for generations to come."
Head of School Jerry Isaak-Shapiro, who is in his 16th and final year, encouraged Mandel JDS families, staff and community members to dedicate themselves to a vibrant future in which new generations of teachers will teach and new students will learn their history and their connection to those who came before them.
"We stand, all of us, on the shoulders of giants," he said. "Giants who are no longer here, but whose efforts enabled us to stand here today. At the same time, we should all imagine not just those who came before us, but those who will come after us. The board members who may only be in college now, the students who haven't yet been born, the teachers who haven't yet chosen their profession, but who already know their passion."