Anshe Chesed Fairmount Temple paid tribute to Cantor Sarah Sager – a pioneer and trailblazer in the cantorial field – during a June 26 virtual Shabbat service and a June 27 car parade in the temple parking lot.
Sager was the first Reform woman cantor in the Cleveland area and one of the first full-time female cantors in the country. After 40 years and 2,080 Shabbat services, she is transitioning to become the first cantor laureate, a part-time position at the Beachwood temple, as Cantor Vladimir Lapin becomes the next cantor.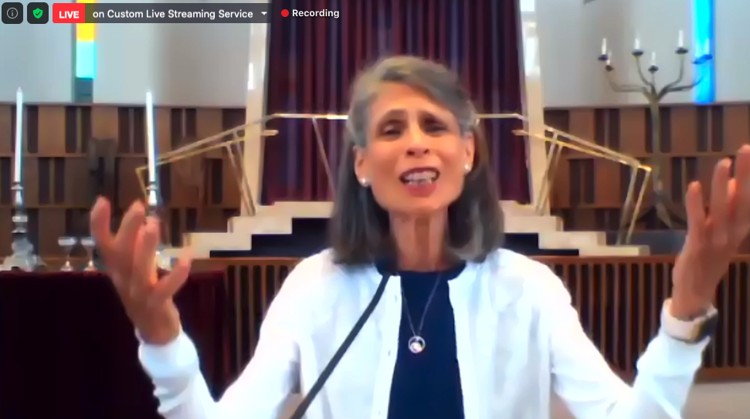 In a 90-minute service, a longer than usual Shabbat service, Sager led the singing of prayers from the temple, while other clergy were among the nearly 150 people on Zoom and others watching on livestream.
Senior Rabbi Robert Nosanchuk, Rabbi Joshua Caruso, Rabbi-educator Jordana Chernow-Reader and board of trustees president Todd Silverman all praised Sager. Dozens of people also left messages in the Zoom chatroom.
Nosanchuk said the temple is much better off due to Sager's "sustained and brave and wise leadership since 1980."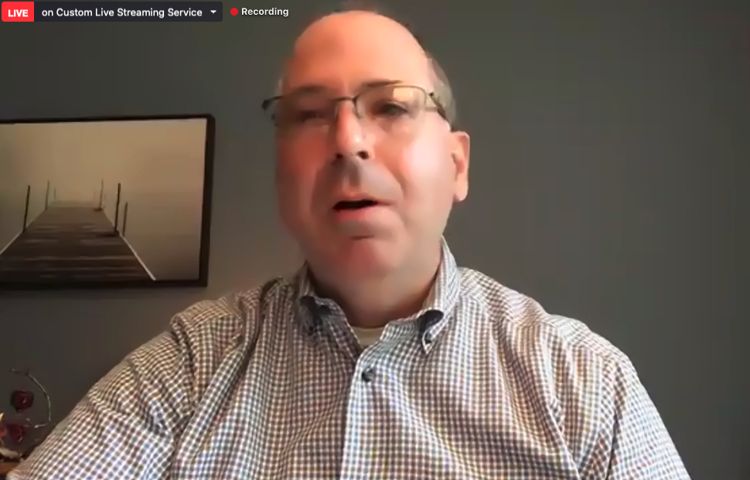 "Now, for the bulk of your lifetime, you have been singing and inspiring us, holding our hands through painful times and holding up our babies and our b'nai mitzvah and our confirmands, and spending treasured moments with us at the marital chuppahs of our children and their partners," Nosanchuk said.
He called Sager "a living exemplar of our faith, our heritage and curiosity for Torah."
Nosanchuk noted her contributions to feminism and women's Torah. He said what other cantors are learning to do in seminary today, she taught herself "on the fly." He described her as "admired, talented, gifted, educated and visionary."
Nosanchuk especially thanked Sager and the other clergy, as he had to rely on them "in ways I could never have predicted" after announcing in June 2019 he was diagnosed with metastatic melanoma.
"Tonight, I say to you Sarah what has been true for 40 years at our synagogue," he said. "It is this: we are better Jews because of you. We believe in its tradition and its ideals with more passion and devotion because of you. We see you, your loyalty, your fealty to the wisdom of G-d and humanity. There is a divine spark within you. We have experienced it viscerally."
Caruso spoke about how Sager has inspired generations of women.
"We are grateful to the Holy One who infused our cantor with passion and inspiration, and the ability to inspire others," he said. "We are grateful for Sarah because she has shown us how one individual can mean so much to so many.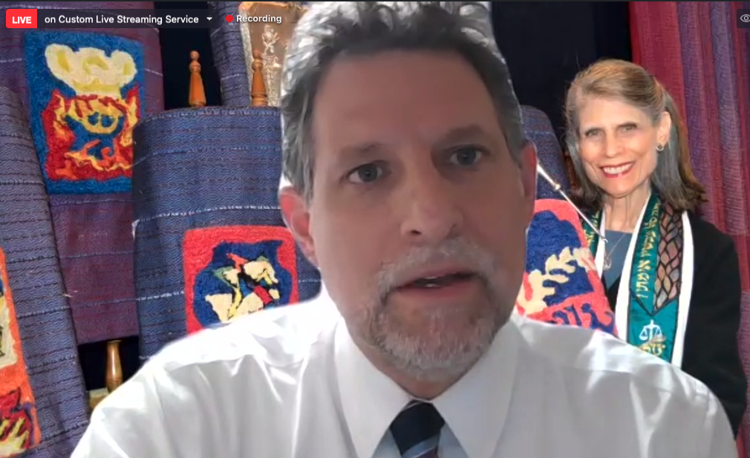 "We are grateful to the Holy One who infused our cantor with passion and inspiration, and the ability to inspire others," he said. "We are grateful for Sarah because she has shown us how one individual can mean so much to so many. …
"525,600 minutes times 40. Countless moments so dear. How do you measure 40 years in the life of Cantor Sarah Sager at Anshe Chesed Fairmount Temple? That's hard to know. But Sarah, the story, your story, is still unfolding. … We are grateful to the One who guided the path of Sarah Sager, and brought you to 23737 Fairmount Blvd."
Chernow-Reader called Sager "a shelter of peace over Fairmount Temple for the past 40 years."
Despite what is happening in the world or at the temple, Sager's "calming presence and an unflappable demeanor" has been "a source of comfort and strength" for everyone around her, Chernow-Reader said.
In her career, Sager has officiated at countless life cycle events and has gotten to know families and extended families.
"It is so extraordinary the way she connects with people. It is truly inspiring," said Chernow-Reader, who after five years of working with Sager is leaving to become associate rabbi of Indianapolis Hebrew Congregation in Indianapolis, Ind.
Chernow-Reader also spoke about Sager's knowledge of Torah, and that she "absolutely has a hilarious sense of humor," calling her "a dear friend and mentor."
Silverman offered a toast, saying the one word that comes to mind is "gratitude."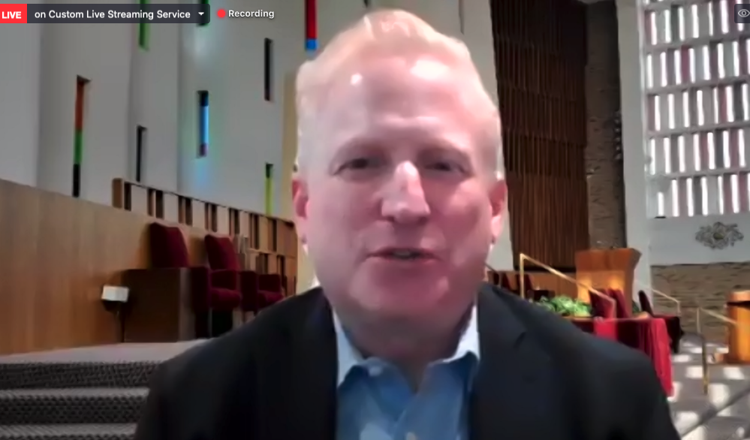 "We have so much gratitude for who you are and what you've done for us," he said. "I know this is really hard on you to be in the spotlight, basically because you've spent your whole life shining a light on others, lifting them up, filling their hearts spiritually. I think it is safe to say we are here today in 2020 because of you and what you have done for our temple for 40 years.
"You chose us, to lead us, to inspire us, to make us thrive, and for that we are forever grateful. You are responsible for so much of the culture, the fiber of who we are at Anshe Chesed. Every act you perform is with love and kindness. Your fingerprints are forever on this synagogue. Simply put, we are better because of you."
Silverman lauded Sager for her urging the Women of Reform Judaism to create "The Torah: A Women's Commentary," which was published in 2007 after 15 years in the making.
"To me, Cantor Sager is definitely the glue that has held our congregation together," Silverman said.
In a 20-minute speech just prior to the conclusion of the service, Sager thanked clergy, colleagues, congregants, family and friends – too many to name. She gave credit to Rabbi Arthur Lelyveld, the senior rabbi when she started at the temple, who "opened the door to my tenure."
"I give thanks for 40 years of health and of strength, for the privilege of engaging in the work of our tradition, in true avodah that has purpose and meaning and impact," Sager said."I thank you for allowing me to be with you at times of loss, to visit you at times of sickness and difficulty. For asking me to help you feel a connection to our tradition at any heightened moment.
"You trusted me to guide you and even inspire you through all of the sacred occasions of Jewish life. That has been a profound responsibility, which never failed to uplift and humble me. This has been the journey of a lifetime, my lifetime, and you made it possible."
Sager thanked her 98-year-old father, Richard Sager, who was watching from Chicago.
Sager's children, Jonathan Gertman from New York City and Rabbi Jennifer Hartman of Minneapolis, who both grew up at the temple, joined their mother in Mandel Sanctuary.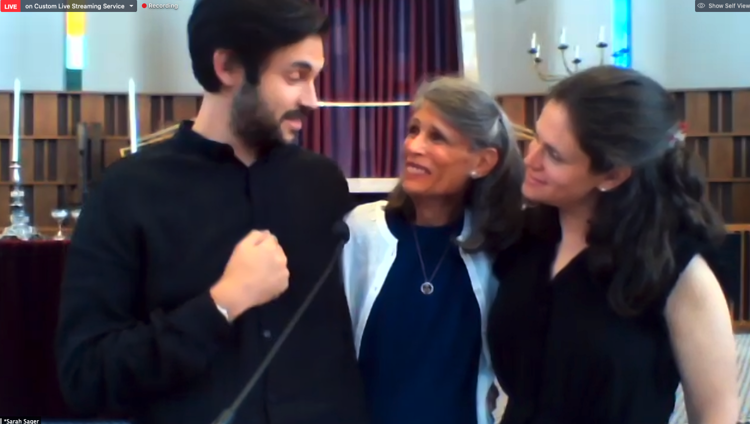 "You have an infectious love of Judaism," Gertman said.
Hartman said of her mother, "Your teachings are ingrained in the very fabric of this congregation. It is literally with them from birth to death."
Musician Julie Silver, a surprise visitor, played "Where am I," for Sager, from her home in Southern California.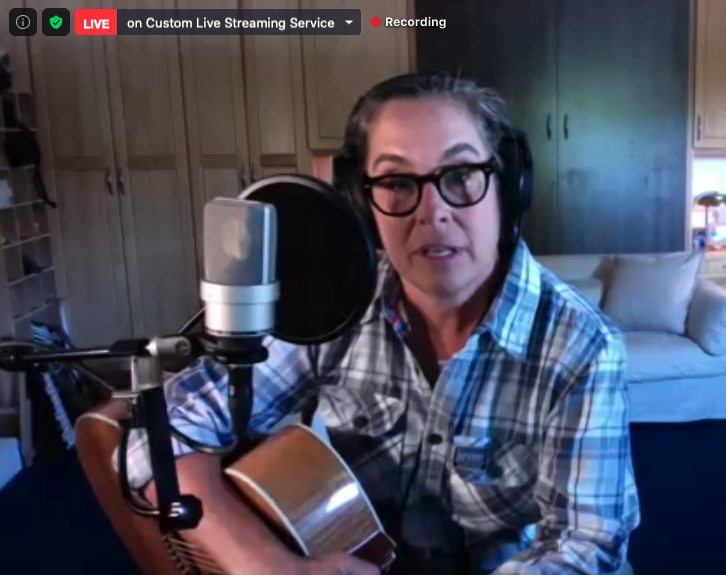 The celebration for Sager will continue on June 13, 2021, with a rescheduled tribute gala in her honor.