Helping hand: Joseph and Channa Ireland wanted to do something good for those people who may need a helping hand. They came up with an idea to order 50 umbrellas and give them out when they see people stuck in the rain. They have already been able to help strangers that have gotten stuck.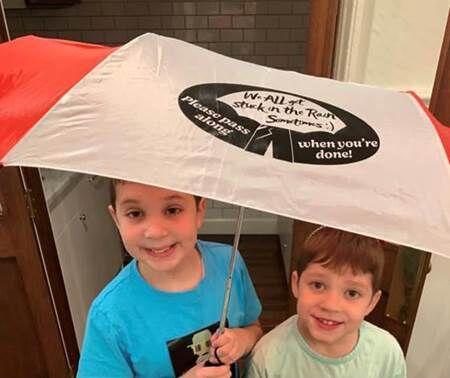 The Irelands are members of Heights Jewish Center Synagogue in University Heights.
---
More helping hands: Nadine Glately, who owns Rent a Daughter Senior Care, recently joined Knitting for Cancer as a sponsor.
Knitting for Cancer is a nonprofit which raises money to buy specific yarn for seniors to knit hats for cancer patients. It is a special yarn called Bernat velvet that provides comfort to cancer patients to sleep at night.
According to the organization's website, "The COVID pandemic has affected so many people, but especially the senior community. The knitting allows the seniors to stay involved while working at home and the feedback we have heard from them is that they love helping out and it helps them reduce their stress and anxiety during these stressful times."
Rent A daughter Senior Care also provided meals to surrounding communities that were in need for Thanksgiving dinners.
---
Food collection: University Hospitals east region community hospitals are collaborating with the Greater Cleveland Food Bank to provide hunger-free holidays for families in need.
Donation boxes will be placed at UH Ahuja, Bedford, Conneaut, Geauga, Geneva, Portage and Richmond Medical Center entrances through Dec. 15. Caregivers can voluntarily bring nonperishable food items when they report to work, and UH EMS vehicles will be transporting donations to the food bank.
Because of COVID-19 precautions, community members who are not employees cannot enter the hospitals. However, to make donating easy for the community, UH and the Greater Cleveland Food Bank have developed a virtual food drive for monetary donations at greaterclevelandfoodbank.org/UH2020.
"UH understands the importance of taking care of our patients and communities clinically, but also throughout their everyday lives," M. Steven Jones, president, UH Community Hospitals East, said in the news release. "During the COVID-19 pandemic, the areas where our patients live face incredible challenges. Nutritious food and a healthy lifestyle is the best preventive medicine, and we look forward to joining the Greater Cleveland Food Bank in this vital initiative."
Kristin Warzocha, president and CEO of the Greater Cleveland Food Bank, said in the release, "Throughout Northeast Ohio, one in six people is food insecure – meaning they may not know where their next meal will come from and that number will continue to increase this year in the midst of the pandemic and economic crisis. The Greater Cleveland Food Bank seeks to bridge the meal gap, connecting individuals with the meals they need to thrive. We are happy to be collaborating with University Hospitals to provide nutrition to those in need this holiday season and into the new year."
The top 10 most needed donations are beans (canned or dried), peanut butter, canned or boxed entrees, pasta sauce (low sodium), 100% juice, cereal (hot or cold), canned protein (like tuna or chicken), whole grain rice and pasta, and canned fruits and vegetables. Monetary donations also go a long way, Warzocha said, with one dollar providing four nutritious meals.
---
Stepping up: Stefanie Mirman of Solon has organized a fundraiser to distribute Giant Eagle gift cards to help feed needy families.
"I was surprised to learn that there are almost 500 families in the Solon School District that qualify for free school lunches," she said. "I thought these families might be able to use some help this holiday season. Let's not only help these families, but unite as a city. Set an example, that we can come together to help others. I can't think of a better holiday wish."
The Go Fund Me account can be found at bit.ly/35XzxMK.
As of Nov. 24, $4,571 of a $10,000 goal was raised from 71 donors.
---
Big tipper: Nighttown owner Brendan Ring and his wait staff received a big surprise on Nov. 22, their last day of business before temporarily closing a second time due to the recent COVID-19 surge in cases.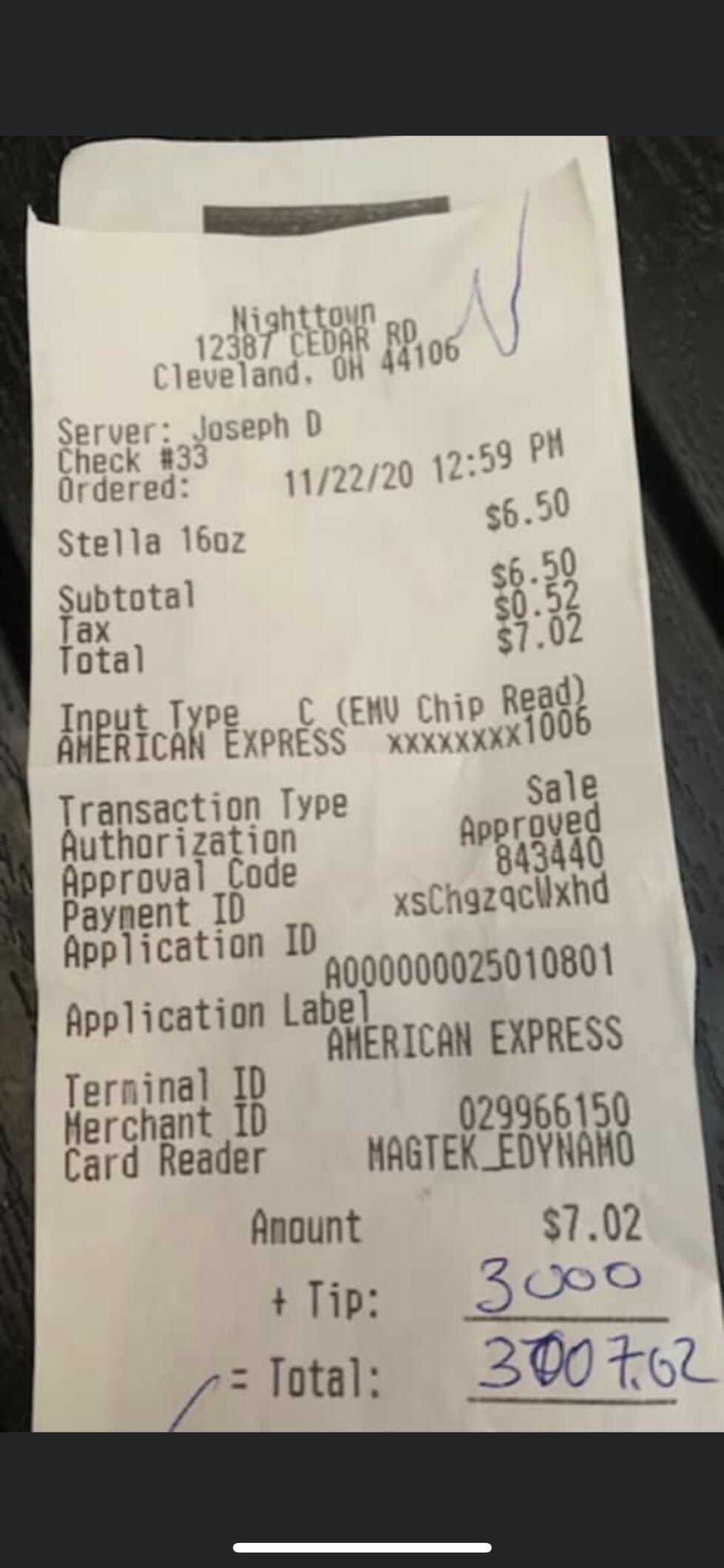 According to Ring's Facebook post: "Just before closing, a customer walked in and ordered a beer and asked for the check, handed his credit card slip to me and wished me well while we sit out our voluntary shutdown and told me to share the tip amongst the wait staff of which there were four working brunch today. As he walked out, I looked down at the tip and realized he left a whopping $3,000 tip on a single beer purchase. I ran after him and he said 'no mistake, we will see you when you reopen.' Unbelievable but symbolic of the kind of quality we have known at Nighttown all these years. I could post his name but I won't as I think he wouldn't want that but all my wait staff and myself are humbly grateful for this incredibly kind and grand gesture."
---
UH Ahuja Donates: University Hospitals Ahuja Medical Center's medical executive committee donated to two organizations in need. The committee provided $10,000 to the Greater Cleveland Food Bank. A donation of just $1 provides enough food for four nutritious meals, meaning this donation helped give 40,000 meals to those in need, according to a news release.
The committee also donated $10,000 to the UH COVID-19 Caregiver Support Fund, which provides comprehensive support to caregivers in need during this critical time. Offering services and resources aimed at providing comfort, compassion, special recognition and relief for caregivers is vital while they attend to the health and wellness of our communities, the release stated.
Each medical center within UH has a medical executive committee comprised of physician leaders who are elected into different roles, including division chairs, a secretary, a treasurer, advanced practice professionals and members at large and works with hospital presidents, chief medical officers and chief nursing officers to review finances, quality measures and policies, and also completes all credentialing for providers.
"With people out of work during this COVID-19 pandemic, the medical executive committee wanted to ensure people still felt safe and had enough food to eat, and so it was an easy choice to pick these organizations," said Dr. Sandhia Varyani, chief of staff of obstetrics and gynecology at UH Ahuja Medical Center in Beachwood, and director of the office of the independent physicians at University Hospitals in Cleveland, in the release. "We also wanted to support employees across UH who may be food insecure, so we decided to double our donation and give to the UH COVID-19 Caregiver Support Fund efforts as well. Our UH chef, John Selick, works closely with the food bank and made the connection possible."
The medical executive committee strives to give back to the community each year, and in 2019, under past committee president Dr. Eric Shapiro, donated to Circle Health Services, a free clinic in the University Circle neighborhood in Cleveland.
---
Strive Mental Health and Wellness: The Shaker Heights mental health care provider created a 10-Choose Program, which donates 10% of Strive's revenue to charitable causes. "10-Choose" is a play on words with the Hebrew expression "eser achuz," referring to 10%. Ten percent of the revenue of each patient or participant visit to Strive goes toward charitable causes. Out of that 10%, 5% goes toward the charitable cause each person choses from a list, and 2.5% goes toward the featured cause of the month. The last 2.5% goes internally to Strive4Access, which bridges the gap between what patients are able to pay and the cost of their services – no questions are asked, according to the organization.
Last year, the organization donated $1,099 to 12 nonprofits. Organizations that have been selected as recipients of the 10-Choose Program are: Bellefaire JCB, Bikur Cholim of Cleveland, Fernway Forward, Jewish Education Center of Cleveland, Matan B'Sayser, Naaleh Cleveland, National Alliance on Mental Illness, Natal (Israel Trauma and Resiliency Center), Ronald McDonald House Cleveland, Seeds of Literacy, Strive4Acess and the Wounded Warrior Project.
---
Nottingham Spirk, others: Cleveland-based Nottingham Spirk, researchers at Penn State Behrend, Case Western Reserve University's Sears think[box] innovation team and local manufacturing companies are donating $50,000 to nonprofit organizations supporting medical personnel during the COVID-19 pandemic. The money is from a contingency budget for the White Label Face Shields project, a joint venture that designed facial shields from injection-molding to significantly reduce build times, producing 125,000 plastic face shields for hospital and health care workers in six states: Ohio, Florida, Michigan, New York, Pennsylvania and Utah. An additional 1,000 shields were distributed at no cost during a drive-up public donation event at Bliley Technologies in Erie, Pa.
"We received an incredibly generous grant from Erie County Gaming Revenue Authority to get this project started, so we are thrilled to be able to give money back to them and to those that have been on the frontlines of the COVID-19 pandemic," said Bill Rabbitt, an engineer at Nottingham Spirk who worked on the project, in a news release. "Bliley and our partners will continue to be available for production and distribution if the need arises again."
The donations include $25,000 for the Erie County COVID-19 Response Fund, which is administered by the Erie County Gaming Revenue Authority and will provide immediate relief to food pantries, homeless shelters and eldercare centers. The team will also donate $25,000 to #GetUsPPE, a national clearinghouse for personal protective equipment. This organization has distributed more than one million pieces of PPE throughout the pandemic. An additional $1,500 will be donated to the American Foundation for Suicide Prevention, which has seen a 400% increase in calls since the start of the pandemic.
---
B'nai Jeshurun Congregation: The Pepper Pike synagogue will hold a chalk festival from June 28 to July 2, free and open to the synagogue's community. B'nai Jeshurun will provide the chalk for participants to demonstrate their artistic flair and share positive messages. Those interested in taking part will be physically distanced and must wear masks, and can reserve a time slot and square to color at 
cutt.ly/chalk-art.
---
Columbus Symphony: Residents of Creekside at Wexner Heritage Village in Columbus enjoyed a performance by members of the Columbus Symphony June 8, according to WHV's Facebook page.
---
Cleveland Public Library: The library and the Greater Cleveland Food Bank will provide grab-and-go meals every Thursday through Aug. 7 for children 18 and under at four Cleveland Public Library branches, the library said in a news release. The food bank's outreach truck will set up outside the library branches to give each child enough food for five meals. Food bank staff will also be available to help adults apply for food assistance and other critical benefits. Food bank staff will wear masks and gloves when distributing meals, and visitors are strongly encouraged to wear masks and practice social distancing.
For a list of meal sites, call the food bank's help center at 216-738-7239, or text "FOOD" to 877-877, or visitfns.usda.gov/meals4kids.
"Cleveland Public Library is pleased to partner with the Greater Cleveland Food Bank to offer this vital service to our community. We're in the business of developing the minds of children, however, we recognize kids can't thrive and grow without a nutritious meal," said Felton Thomas, Jr., executive director and CEO of Cleveland Public Library, in the release. "We want to ease the concerns of parents and guardians by offering a convenient way to get a helping hand."
---
Gramercy Books: The Bexley bookstore has ordered 100 copies of "How to Be an Antiracist" by Ibram X. Kendi and will donate all profits from the sales to The HeART of Protest, an initiative being convened by the King Arts Complex in Columbus. It is collaborating with 20 arts organizations in Central Ohio that came together to create 46 days of artistic protest, nonsequential and determined by each organization, to honor the 46 years of George Floyd's life, the bookstore said in an email. The initiative will take place between Juneteenth (June 19) and Nov. 3, and the funds they raise will support the hiring of artists, writers, photographers, videographers and others to produce both a documentary and a book that will memorialize the movement and this moment in American history.
---
Nottingham Spirk: The Cleveland-based innovation firm with partner Sterifre Medical Inc. created the first automated point-of-care system that disinfects medical equipment and personal care items against COVID-19. Once it receives its fast-tracked U.S. Environmental Protection Agency approval, the Sterifre AURA System will go into production in a matter of weeks to be in hospitals across the U.S., according to a news release.
The Sterifre AURA System originally started as a dental tool and was reinvented with microspray hydrogen, cold plasma ozone and atmospheric pressure to combat the virus in a faster and more effective way than chemical methods used now. Due to the microwave oven size of the Sterifre AURA System, it can disinfect eight to 10 items at once. It can also treat electronics as it doesn't use heat. The system is activated by the press of a button and the items are ready after a few minutes.
The system is being manufactured by Sparton Medical Systems in Strongsville, and its production will create new jobs for Northeast Ohio. Sterifre will start accepting customer orders for the system in June.
---
Simakovsky Law: Simakovsky Law, the Columbus immigration law firm, is working with organizations distributing food to immigrant families in Columbus. It held two food drives and plans to conduct another one on June 5. Many families served are now unemployed and due to their status as immigrants cannot receive unemployment benefits.
---
Beachwood: The city of Beachwood and Beachwood 100, Inc., are partnering to support first responders and their families with a show of flags. Individuals or businesses can participate in Flags for First Responders by visiting Beachwood100.org. Through this effort, a specific COVID-19 fund will be established to provide financial support for any Beachwood police and fire department employee or family member who is impacted by the coronavirus.
"Our Beachwood safety forces continue to put themselves on the front lines of this pandemic, and their safety and mental health is of utmost importance to the residents and individuals who live and work in this great city," said Ivor Kiwi, board president of Beachwood 100, in a news release. "This also provides an opportunity for residents and businesses to help people who are helping them. To date, I am grateful to report that no staff members have tested positive."
Individuals who donate $50 or corporations that donate $100 will receive: an American-made American flag (12-inches-by-18 inches), which can be placed in the front yard; a second flag to be added to an outdoor display on Richmond Road at Beachwood City Hall to show support for Beachwood's First Responders; a one-year membership to Beachwood 100; and a Beachwood 100 decal and two membership wallet cards.
"Flags for First Responders is a wonderful way to show support and raise awareness of the importance of our safety forces' service to the community," Mayor Martin S. Horwitz said in the release. "I thank Councilperson June Taylor for suggesting this idea and I thank Beachwood 100 for its many years of service and support."
To support Flags for First Responders or to learn more, visit beachwood100.org.
---
Bexley: Matthew Grossman and Josh Radnor, the actor and former Bexley resident, donated 10,000 face masks to the city for use by its organizations, businesses and high-risk residents and families that need them. This was in addition to the Akey family that helped secure masks, and the Rupp family which made a donation of masks.
"With our initial distribution to businesses and Bexley organizations, we are now offering masks to any household who needs a supply, and strongly encourage residents to wear masks in any public indoor space or crowded outdoor setting," according to an email from the city."
Those in need of face coverings should register at bit.ly/2Xhrgxs.
---
Jewish Federation of Cleveland: The Jewish Federation of Cleveland's Jewish Volunteer Network delivered food boxes and handmade "thinking of you" cards made by Solon resident Lindsay Lebowitz to Mandel Jewish Community Center Lunch Plus participants. Those looking to get involved in helping the vulnerable in Jewish Cleveland may contact Susan Hyman at shyman@jcfcleve.org or call 216-593-2887.
---
Giant Eagle: Giant Eagle started a donation campaign March 26 at all its supermarket and GetGo gas station locations to raise money for Feeding America member food banks in western Pennsylvania, Ohio, Indiana, West Virginia and Maryland. The campaign had raised $2 million, according to a news release.
Those looking to contribute can donate in increments of $1, $2 or $5 either at the register in-store or at the fuel pump. Giant Eagle is also giving $250,000 in corporate funds.
---
Community Partnership on Aging: The organization has implemented special programs to provide aid during the pandemic. To guarantee older adults have food, CPA is handing out hundreds of frozen lunches weekly through curbside pickup to area residents over the age of 60, according to a news release. In April, CPA doled out 2,645 meals. It also secured 225 shelf-stable food boxes through a partnership with the Greater Cleveland Food Bank that are being distributed to those of greatest need. CPA also held a drive-thru produce pickup event May 6 where community members could choose from 3,000 pounds of fresh produce. The event was sponsored by the Greater Cleveland Food Bank and had assistance from the Ohio National Guard. Mama D's Diner in Lyndhurst will also donate lunches to older adults in the coming weeks.
To guarantee older adults have PPE, CPA is dispensing volunteer-made masks and 500 N-95 masks donated from a partnership with the Cleveland Foundation, Oswald Company and the United Way as needed.
Those in need of a mask can call CPA's main office at 216-291-3902. To guarantee older adults have access to CPA's social workers, residents of member cities can call 440-442-2626 ext. 244 to be connected with a social worker.
The organization works to improve older adults' lives in South Euclid, Highland Heights, Lyndhurst, Mayfield Heights, Mayfield Village and Richmond Heights.
---
Chagrin Valley Chamber of Commerce: The organization dedicated to assisting local business owners and consisting of more than 580 Chagrin Valley area members, thanked customers for shopping local by giving out $25 gift cards to shoppers who purchased a $50 gift card to a CVCC member's local business. The gift cards sold out in 45 minutes of going live, according to a May 18 Facebook post, and produced $45,000 for the CVCC economy. Funding for the gift cards came from $15,000 CVCC members elected to give back to those remembering local businesses during the pandemic, according to a news release. More than 75 participating retailers, restaurants and service businesses are listed at cvcc.org. The $25 gift card from CVCC will go toward that same business, and both gift cards will be mailed to recipients' homes.
"The Chagrin Valley Chamber wanted to do something to make a splash and help our members as they start to reopen," said Molly Gebler, CVCC executive director, in the release.
---
Naturepedic: The organic mattress and bedding manufacturer headquartered in Bainbridge Township is manufacturing 5,000 organic face masks a day, available to the public. The company is also donating its masks to local facilities, including Cleveland Clinic and University Hospitals, according to a news release.
The masks are free of toxins, synthetic fibers or hazardous chemicals. They are also sustainable and are made with two breathable layers of 100% organic fabric certified by the Global Organic Textile Standard. The masks are machine washable, and their design's placement on the face removes the opportunity for toxins to enter the skin, the release said. Naturepedic's mask is intended for everyday consumers' use and are not to replace particulate filtering personal protective equipment like N95 respirators used by medical professionals. Despite being produced and sold at a cost, the masks are not for profit.
"The response has been overwhelming," Jason Cik, Naturepedic's vice president, said in the release. "Orders have been flooding in every day. Our donations to the Cleveland Clinic, University Hospitals and other local facilities have also been greatly appreciated."
---
Congregation Agudas Achim: Initiated by member and volunteer Shaaron Fisher, the Bexley synagogue donated its old taleisim, or prayer shawls, that were no longer being used to the Hebrew Free Burial Association. The shawls were shipped to Staten Island, N.Y. – where Fisher had learned lacked an appropriate supply of such shawls because of the increase in burials at its Mount Richmond Cemetery due to the COVID-19 pandemic. 
---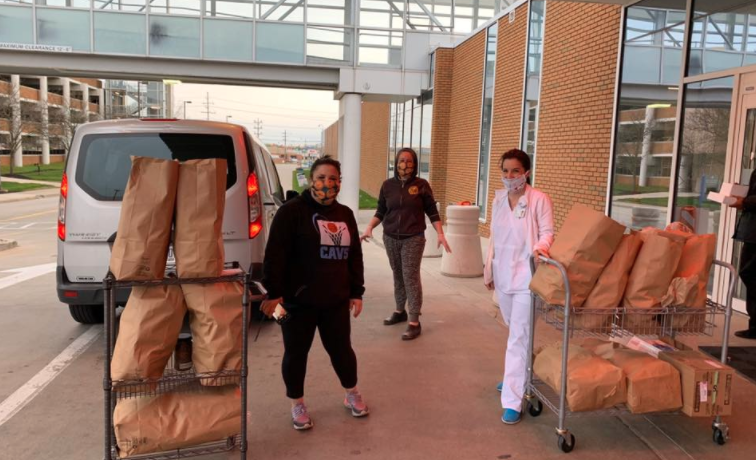 Bialy's Bagels: Customers purchased 187 dozen bagels to be donated, and Bialy's matched it to donate a total of 374 dozen bagels. Owners Rachel and Sarah Gross delivered the first round of 69 dozen bagels May 6 to Hillcrest Hospital in Mayfield Heights.
---
Home Instead Senior Care: The senior care company hosted a drive-thru thank you breakfast for its 400 care-giving staff members April 30. While the caregivers remained in their cars, breakfast and treats were served to them outside the company's Oakwood Village office.
---
Jewish National Fund-Northern Ohio: The organization is raising money for Israeli tour guides through a virtual bus tour of Israel from 4 to 5 p.m. June 1 to June 4.
Rebecca's Rowdy Riders Bus will feature bus captain and JNF-Northern Ohio board member Rebecca Bar Shain, and a tour guide aboard a bus live from Israel who will show participants Israeli sights via Zoom.
The cost for each group to participate is $50, regardless of size. Email JNF-Northern Ohio Director Mindy Feigenbaum with questions at mfeigenbaum@jnf.org.
---
GetGo Cafe and Market: The Giant Eagle chain partnered with the Girl Scouts of Northeast Ohio and purchased $25,000 in cookies to share with Greater Cleveland teachers for Teacher Appreciation Week.
In a May 7 news release, GetGo said it was working to distribute the 5,000 Girl Scout cookies to teachers who have been teaching remotely.
It also partnered with Shoes and Clothes for Kids, a nonprofit based in Cleveland that dispenses school supplies to students and teachers in 250 low-income Cuyahoga County schools.
---
Huntington Bank: The bank headquartered in Columbus will match all new and increased gifts to Northeast Ohio Medical University Foundation's Blue Fund up to $35,000, in support of its goal to raise $100,000 for COVID-19 community relief. The Foundation commits to raise at least $100,000 for the fund to address four needs in response to the COVID-19 crisis: free meals for local families; new personal protective equipment for students, faculty and staff who donated all of their supplies to local hospitals; expanded mental health services for NEOMED students; and funds to support students with financial emergencies.
---
Union Home Mortgage Foundation: The charitable arm of Union Home Mortgage in Strongsville gave $52,500 to support 10 local and national nonprofits during COVID-19 pandemic.
---
Rube Adler Sporting Goods: The Solon sporting goods store is making masks with local logos for several Northeast Ohio schools. Mix and match four masks for $8 each at bit.ly/3covbyR.
---
JewishColumbus, Pearly Vine: In a partnership facilitated by JewishColumbus, for each non-surgical cloth mask purchased at Pearly Vine, the New Albany clothing shop donated another to Wexner Heritage Village in Columbus. In a week, 500 masks were donated.
---
Mask maker: Megan Webster of Solon made more than 700 masks to donate to anyone in her community who is in need. Using the Solon Soundboard Facebook page to share her message, Webster learned of local businesses in need of masks and delivered to the surrounding area. Megan told the Cleveland Jewish News it takes her "about five minutes" to prepare each mask.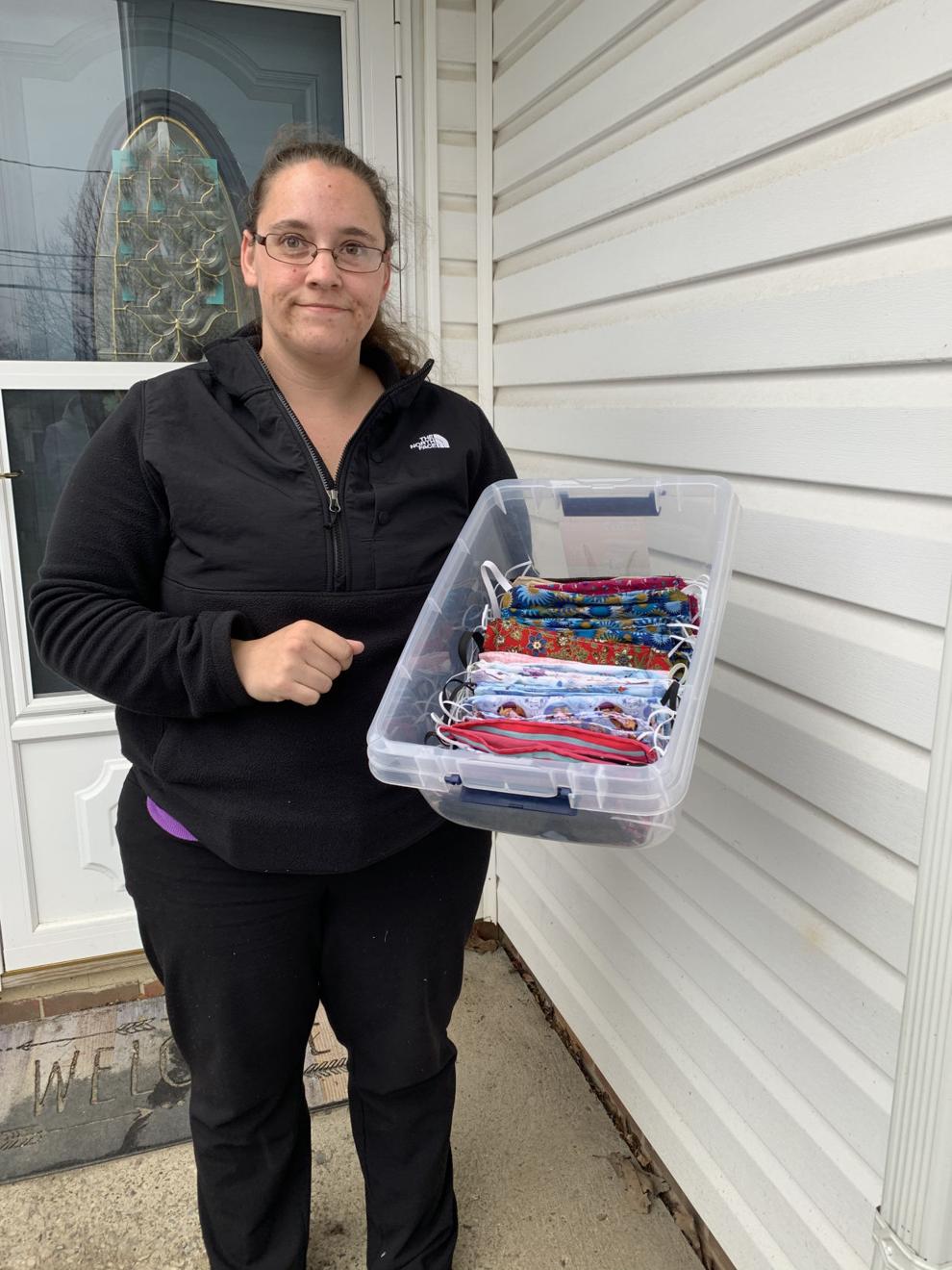 ---
Solon: Solon Mayor Eddy Kraus was among the volunteers helping at the Solon Food Pantry at Resurrection Church in Solon. Solon Senior Center and Solon Rotary also assisted.
---
Park Place Technologies: Park Place Technologies, a data center management provider in Mayfield Heights, donated 300 lunches to the UHAhuja Medical Center in Beachwood. The company collaborated with Pizzaz in Mayfield Village to prepare the meals.
---
Umbrella: The company is providing volunteer-based grocery and medication deliveries to seniors around the Cleveland area. Seniors can either place a grocery order at askumbrella.com or call 844-402-2480. Deliveries are contactless. A $10 suggested donation fee is encouraged for those are are able.
---
Nurenberg Paris, Heller & McCarthy: The law firm, which has offices in Cleveland and Columbus, is waiving all fees of workers' compensation claims for the rest of 2020 for health care providers and first responders if they have contracted COVID-19.
"Our firm is fully operational during this time and will continue until we get back to normal," according to a news release. "We have been working from home, continuing to work on cases, but we have a skeleton crew that still goes into the office to keep the firm going. Before COVID-19, we have used video chat and other means to communicate with others that are not local, so we had a system in place and just had to enhance it for all of our cases."
---
Bexley Community Foundation: With help from seamstresses at Bexley shop Urban Emporium, the foundation purchased 2,000 masks to be distributed to Bexley households at no cost.
---
Maxi's: Thanks to a donation, the restaurant in the Little Italy neighborhood in Cleveland is giving 30 pizzas to give to employees working in other area restaurants every Wednesday. They can be picked up between 3 and 4 p.m.
---
Gervasi Vineyard: The Canton business converted its distillery from manufacturing spirits to manufacturing hand sanitizer. The first batch yielded more than 3,000 bottles of 18-ounce liquid hand sanitizer and was hand labeled and bottled by members of the Swaldo family, owners of GV Destinations, and their friends. "I want to thank our entire distillery and winery team for making this happen," said Scott Swaldo, general manager of GV Destinations in a news release.
---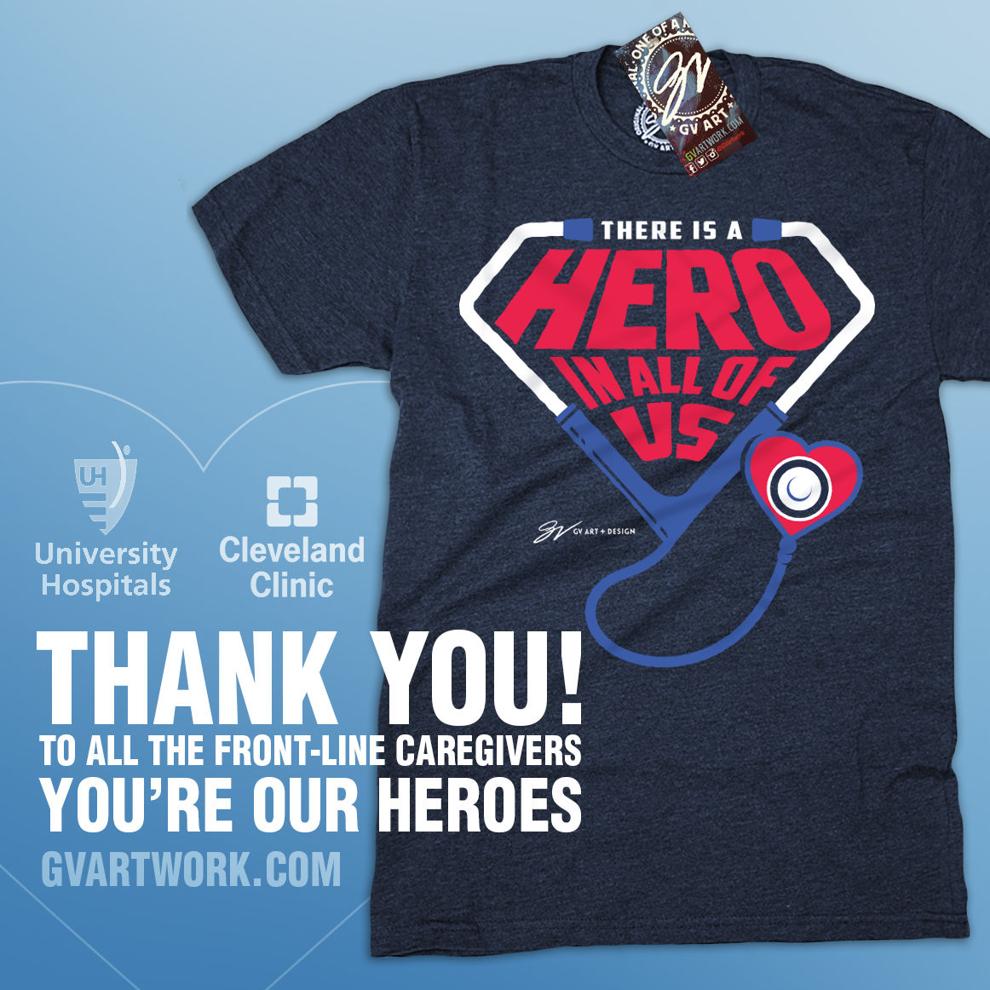 GV Art + Design: The Lakewood business is partnering with University Hospitals and Cleveland Clinic to show support for caregivers on the front lines with the release of a new "Heroes" T-shirt. Proceeds benefit the hospitals' Covid-19 Caregiver Funds.
---
Antonio's Pizzeria LoSchiavo: The restaurant donated 1,000 large take-and-bake pizzas to Cleveland Clinic. Antonio's has locations in Solon, Avon, Broadview Heights, North Royalton, Medina, Parma, Strongsville and Westlake.
---
Alson Jewelers: Orders at alsonjewelers.com will save 20% when using code "SAVE20" and the store will donate 20% of the proceeds to MedWish International. Alson is in Woodmere.
---
Swagelok: The Swagelok Foundation is donating $100,000 to help sustain direct-service nonprofit organizations that are facing increased economic and medical needs. The gift will be distributed among six local nonprofit organizations that have designated programs to support the area's most vulnerable citizens during the COVID-19 pandemic.
Swagelok is headquartered in Solon.
---
Medworks and Kim Ponsky Photography: Medworks and Kim Ponsky Photography partnered for a photographic fundraiser to support the Medworks COVID-19 Relief Fund. Ponsky traveled to neighborhoods in Cleveland to photograph families on their front porches from a safe social distance. Each family received a 10-minute photo session and 3D files from the photo shoot in exchange for a donation to the relief fund. Her initiative raised more than $5,000 in just three days. Since being launched in March, the relief fund has distributed more than $30,000 to provide food to individuals struggling to make ends meet and front-line health care workers, and support locally owned restaurants and grocers.
---
Bialy's: Bialy's is also allowing customers to purchase for $10 one dozen bagels to be donated to front-line workers and the business will match each donation purchased.
---
MC Salon and Spa: The Cuyahoga Falls business temporarily closed on March 16, owner Marcy Cona converted her website mchair.com into MC Community, an interactive platform to connect guests and everyone in the Greater Cleveland area with a message of "friendship, kindness and collective energy," and asked, "How can we serve you through this time?"
Online visitors are prompted to complete a form on mchair.com, then digital team members Leah Marino and Meg Dyer sift through all inquiries. They connect requests to the right MC stylist or team member, set up virtual consultations or "connects," arrange free delivery of hair care and self-care products and more.
---
Right At Home: Once a day, someone from one of their offices will call an individual or couple to see how they are doing. To schedule a call, in Stark County, 330-479-0033; Medina and Summit counties, 330-721-7590; Cleveland Southwest suburbs, 440-842-2787; western Cuyahoga County and Lorain County, 440-772-4017; and eastern Cuyahoga County, western Lake and western Geauga County, 216-752-2222.
---
Hiram College: Hiram College nursing program donated more than 5,700 pieces of medical equipment to University Hospitals Portage Medical Center, the closest medical center to the College's campus. The donation included 2,400 nonsterile gloves, 1,500 sterile gloves, 300 surgical masks, 1,000 surgical sponges, 200 tourniquet bands, 13 PPE gowns, 200 chux patient pads and 100 surgical bouffant headcaps. The nursing department was also prepared to donate other supplies including syringes, needles, cotton swabs, and alcohol swabs, and loan the college's nine hospital beds once the additional facilities were set up to handle the surge.
---
Columbus JCC: The Jewish Community Center of Greater Columbus is routinely calling program participants over age 65 to help ease social isolation. It's also helping connect those in need of services to community resources, as well as partnering with JewishColumbus and Jewish Family Services in Columbus to provide food to those who need it using the JCC's kosher kitchen.
---
JewishColumbus: The organization has raised over $831,000 from 253 pledges for its Community Response Fund, funding COVID-19 related needs locally.
---
OSU Chabad: The Ohio State University Chabad House gave out more than 100 dinners to Jewish OSU students and more than 50 prepared seder plates for Passover. The Chabad staff took social distancing measures and wore masks and gloves to prepare the dinners.
---
Beachwood: The city's Community Services Department is making wellness calls to hundreds of Beachwood seniors to check on their wellness and asking if they need any help with obtaining necessities.
---
Anshe Chesed Fairmount Temple: The Beachwood temple's caring community committee sought volunteers to call and check in with some of their members and share a sense of community during a difficult time. Within a few days, 50 volunteers signed up. The following is an email Wendy Jacobson received from Nate Arnold, someone who received a call from a member making a call:
"The Caring Community Committee of Anshe Chesed Fairmount Temple went into action as soon as it was clear that their members would have to stay away from each other physically due to concerns about COVID-19. The initiative began with reaching out to members in nursing homes and assisted living facilities who might feel isolated and anxious without their usual visitors and activities. The effort quickly grew into an opportunity to connect with many other members just for the sake of sharing a sense of community during a difficult time. Within a few days, 50 volunteers offered to make phone calls or run errands for temple members, and about 320 members will be the recipients of that kindness."
---
The Reminger Foundation: Managing Partner Steve Walters spearheaded an effort as chair of The Reminger Foundation. The foundation has committed $250,000 in charitable grants to hospitals that established recovery funds to support their frontline caregivers.
"We wanted to identify a meaningful way to demonstrate our deep appreciation for these heroes who are working tirelessly and valiantly on the front lines in our communities to help treat those afflicted with the COVID-19 virus," Walters said in a news release. "Reminger has always been a close partner of the medical community. There has never been a more important time for us to work together to overcome this overwhelming challenge.
The hospitals are in Ohio, Kentucky and Indiana, which is where Reminger's 14 offices are located. Ohio offices are in Cleveland, Columbus, Akron, Youngstown, Sandusky, Toledo and Cincinnati.
---
Sitti's Free Childcare: The Bexley business is offering free childcare to first responders, such as hospital workers, primary care physicians and nurse practitioners, EMTs, paramedics, firefighters and police officers. There are more than 200 sitters to match with families. They are raising funds through donations to provide the service.
---
STEP2: The Streetsboro company donated alert easels to Menorah Park that remind people on campus to practice 6-feet apart guidelines.
---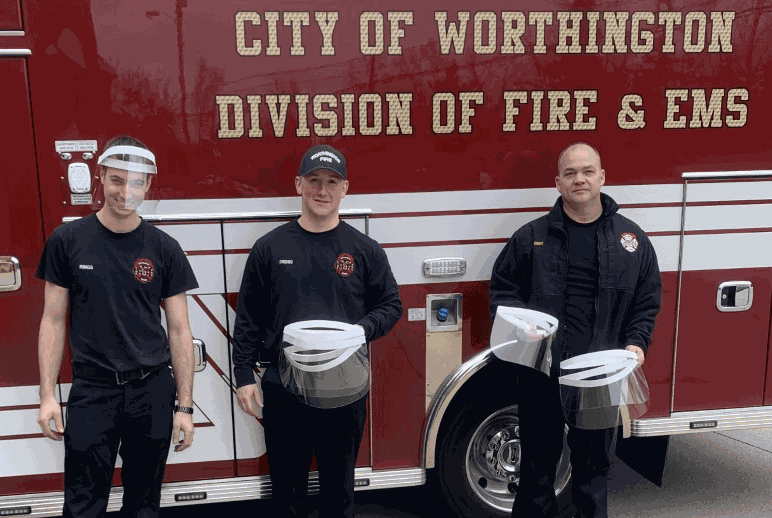 SuperGames: The Worthington nonprofit donated face shields to first responders in Worthington. Gary Moore of SuperGames is shifting gears from special events to helping to distribute face shields to protect emergency crews from the threat of COVID-19 when working out in the field. Moore's brother Tim, who owns Waterford Signs in Delaware, manufactures the shields, which have also been donated to area first responders. Gary Moore purchased the shields from Waterford Signs and donated them to the Worthington Division of Fire and EMS. The equipment is now housed on medic vehicles, to be used in conjunction with existing masks and glasses.
---
Zoup! The restaurant is offering a free cup of soup to front-line responder or medical worker with a valid ID every Monday in April. Orders can be takeout, delivery or curbside pickup and can be placed at zoup.com, using the code medmon.
Cleveland-area locations include 4025G Richmond Road in Warrensville Heights, 13955 Cedar Road in South Euclid and 30050 Aurora Road in Solon. 
---
Condado Tacos: The restaurant has launched its new "Bud Boxes" for #HealthcareHeroes donation program. Every Tuesday in April, Condado Tacos wants customers to give back to the community by donating Bud Boxes to local health care workers. For every $10 donation made online, three Bud Boxes will be delivered to a local Cleveland hospital. Condado will match all donations up to $5,000, according to a news release. When orders are placed for express curbside pickup or delivery through Condado's online platform, select the "$10 Bud Box Donation for Healthcare Heroes" item to add it to your order. The donation will be applied to your total at checkout.
In the Cleveland area, Condado has locations at Pinecrest in Orange and Crocker Park in Westlake. In the Colmbus area, Condado has locations in Clintonville, Dublin, Easton, downtown, Polaris and Short North.
---
Dunkin': Dunkin' and the Joy in Childhood Foundation distributed thousands of cups of coffee, doughnuts, 40,000 gift cards and care packages to more than 150 hospitals across the United States. as a small way to say thanks. Dunk is asking customers to send them an e-gift card at DunkinCoffeeBreak.com. For every gift card purchased, Dunkin' will donate $1, up to $100,000, to the Dunkin' Joy in Childhood Foundation emergency funds that go to nonprofits helping families affected by COVID-19.
---
Gervasi Vineyard: The Canton business converted its distillery from manufacturing spirits to manufacturing hand sanitizer. The first batch yielded more than 3,000 bottles of 18-ounce liquid hand sanitizer and was hand labeled and bottled by members of the Swaldo family, (owners of GV Destinations, and their friends. "I want to thank our entire distillery and winery team for making this happen," said Scott Swaldo, general manager of GV Destinations in a news release.. "It's been a quick learning curve and some challenging sourcing plans, but we're on our way and they have done a fantastic job."
---
Hiram College: Hiram College nursing program donated more than 5,700 pieces of medical equipment to University Hospitals Portage Medical Center, the closest medical center to the College's campus. The donation included 2,400 nonsterile gloves, 1,500 sterile gloves, 300 surgical masks, 1,000 surgical sponges, 200 tourniquet bands, 13 PPE gowns, 200 chux patient pads and 100 surgical bouffant headcaps. The nursing department was also prepared to donate other supplies including syringes, needles, cotton swabs, and alcohol swabs, and loan the college's nine hospital beds once the additional facilities were set up to handle the surge.
---
JewishColumbus is providing 1,000 kosher for Passover chickens for families in need ahead of the holiday.
In partnership with the Jewish Community Center of Greater Columbus and the Columbus Board of Rabbis, the chickens were available for pickup at the JCC Zusman Facility in Columbus.
Funding for such endeavors comes from JewishColumbus' Community Response Fund to address the pandemic. Those interested in donating may do so at bit.ly/39tmPE6.
---
Beachwood: Announced a project for residents to decorate their front windows for springtime or in appreciation of first-responders, using only items currently found in their homes. A March 20 Facebook post stated, "A pretty window will bring a smile to the faces of all your neighbors as they walk by. It will also keep your kids busy for at least 20 minutes. We all win." Photos of decorated windows can be emailed to Lynn Johnson, the city's communications coordinator, at lynn.johnson@beachwoodohio.com. The city also encouraged residents to display their United States or Ohio flag to show unity.
---
Bexley: The recreation parks department created a public Facebook group, Bexley Recreation at Home, where every Tuesday staff members will post videos of classes from favorite instructors, games and art projects to do at home. The page also allows people to share photos of their projects and family activities.
---
University Heights: Introduced the "Time Out Together" initiative. According to a March 19 email from Mike Cook, University Heights communications and civic engagement coordinator, every evening at 6:30, residents are "encouraged to come out of their homes, wave to neighbors, visually check in with each other, ride bikes, walk their dogs, chat across yards, share supplies, and generally provide comfort and safely interact with each other."
---
Jesse Friedberg: Has provided virtual concerts, under the stage name Jesse Jukebox, for children and their parents on Facebook at @JesseJukebox. This Cleveland-based songwriter, educator and performer has encouraged his fans to donate money to the Greater Cleveland Foodbank, and as of March 25, they raised more than $1,500 at bit.ly/2QKfbyA.
---
Baker and Emily Mayfield: Donated $50,000 to the Greater Cleveland Food Bank, matching a gift from an anonymous donor. A March 22 email from the nonprofit stated, "Our COVID-19 response expenses will be significant and we are grateful that our community has begun to step up as this will be a long and hard fight." To donate, visit greaterclevelandfoodbank.org/give.
---
Montefiore: The Beachwood senior living facility thanks everyone who has sent cards to cheer up our residents. They really appreciate the notes and letters from the community. If you would like to email a greeting card, send it to dweiner@montefiore.org.
---
56 Kitchen, Solon: Gave away free food to customers on March 20, in exchange for donations to help the restaurant's staff.
---
Compola's Tasty Pizza, Lyndhurst: Offered a free roll of toilet paper and a large plain pizza to anyone who buys an extra-large pizza.
---
Corky & Lenny's, Woodmere Village: Donated 2,500 pounds of food to the Greater Cleveland Food Bank. In a March 20 Facebook post, the owners said, "Happy to be a small help to our neighbors in need."
---
Geraci's Restaurant, University Heights, Pepper Pike and Mayfield Village: Implemented its "Match Batch & Dispatch" program. Starting March 20 and running through the end of March, when customers order a large cheese "donation pizza" to be delivered to a Northeast Ohio hospital, the restaurant will match it with another cheese pizza. On Facebook, the owners said, "Hospital staff, and those alike on the front lines, are putting in crazy hours. We figure a little pizza will boost their spirits while supplying them with a much needed break."
---
Heinen's Grocery Store, based in Cleveland: Provided employees with a thank you note and $100 cash March 24. "Spend it on something that makes you smile," said owners Tom and Jeff Heinen.
---
Jack's Deli & Restaurant, University Heights: Loaded three SUVs with produce and perishables March 19 and delivered it to Bellefaire JCB in Shaker Heights to be distributed to local families.
---
JOANN Stores: Announced on its website that, "while adhering to social distancing guidelines," it would open its classrooms starting March 23 to anyone who wants to help make protective masks, gowns and other essential items to donate to hospitals and health care facilities. The Hudson-based company is providing and donating 100% of the supplies needed to make these projects. To make these items at home, follow the tutorials at joann.com/maketogive; the items can be dropped off at JOANN Stores' collection points.
---
The Kroger Co., based in Cincinnati: Announced March 21 it will provide "a one-time bonus to every hourly frontline grocery, supply chain, manufacturing and customer service associate, amounting to $300 for every full-time associate and $150 for every part-time associate." The bonus will be paid to associates who were hired on or before March 1, covers the payroll period March 8 to 28, and will be payable on April 3. The company also expanded its COVID-19 emergency leave guidelines to include "paid time off for self-isolation and symptoms as verified by an accredited health care professional."
---
Giant Eagle, based in Pittsburgh: Announced March 21 employees will receive $10 million in bonus pay as they work through the COVID-19 pandemic. Bonus pay started immediately and will be retroactive to March 15. The company said, in a news release, a May 2 end date is scheduled but will be "reevaluated in the coming weeks based on the needs of the community."
---
Cameron Mitchell Restaurants: Established an associate relief fund, according to a Facebook post. The Columbus-based chain donated 100% of online gift card sale proceeds through March 21 to distribute evenly among its 4,500 associates. The fund included personal contributions from the leadership team. To learn more, visit bit.ly/39kSaJ5.
---
Watershed Distillery, Middle West Spirits, 451 Spirits and BrewDog: All the Columbus spots have products in the works. BrewDog's distillery in Scotland is making hand sanitizer and giving it away free to those in need in the United Kingdom. There are plans to send some to its U.S. operations.
Watershed's Greg Lehman said the distillery's sanitizer, which is 80% alcohol, is for first responders only.
"We're not selling it," he said. "It's an ethanol and water mix that they can spray to disinfect."
Any police, fire or medical operations in need can reach out directly to Lehman at greg@watersheddistillery.com.
---
Medworks: Launched the Medworks Unconditional Care COVID-19 Relief Fund to support the Greater Cleveland community. 100% of the funds raised will be directed to support families in need, frontline healthcare workers and local restaurants. To donate to this Lyndhurst-based nonprofit, visit medworksusa.org/relief-fund.