One of the questions our Cleveland friends have been asking me is, "Do you cook differently in Jerusalem than in Cleveland?" 
Packing for our first winter in Jerusalem, I thoughtfully included a cookbook of Middle Eastern food, a long ago and unused present from one of our nieces. Perhaps it was unused because the recipes never appealed to me, or ingredients seemed odd. I purchased  my favorite cookbooks, "Modern Jewish Cooking" by Leah Koenig, and "Yotam Ottolenghi's Plenty and Plenty More" for my Kindle.  To round off things, I put together a folder of favorite recipes. 
Among our Jerusalem friends, Friday night dinners and Shabbat afternoon lunches are times for guests and multi-course special meals. Often starting with small salads, then progressing to soups, then to main courses and finally desserts, each meal is accompanied by an Israeli wine  (half the price in Israel than in Cleveland), and, with one special friend, finished with something harder.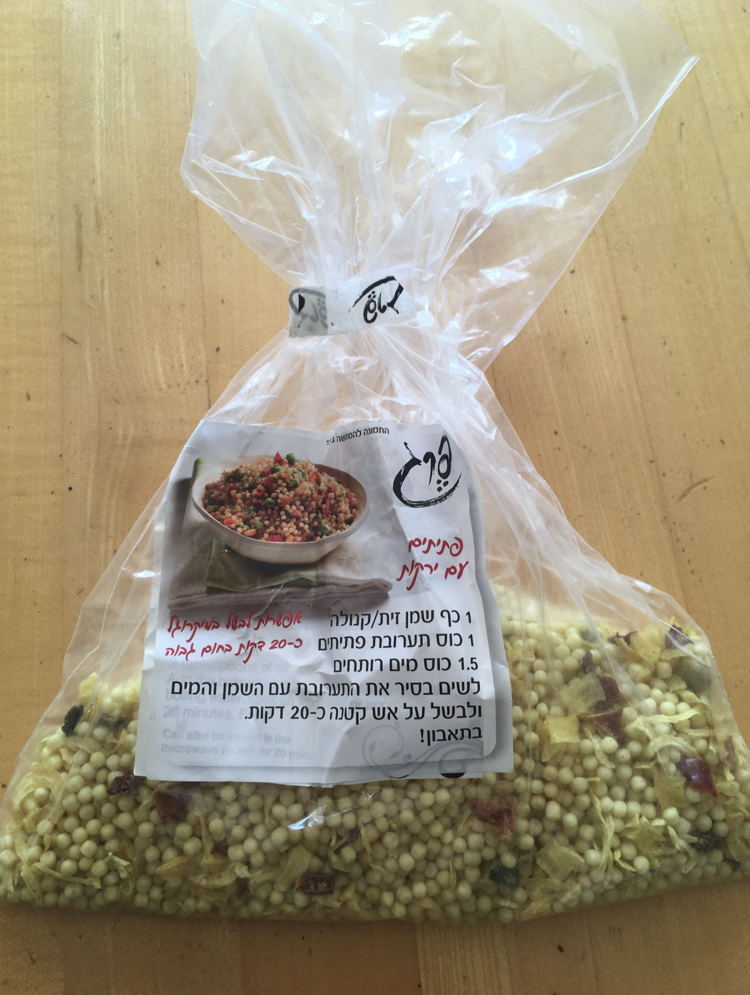 My basic Cleveland recipes did not seem adequate. I turned to the internet – and the Middle Eastern cookbook from my niece. My new friend, Mordechai, at the Pereg Spice Shop in Machaneh Yehuda, introduced me to a salad topping with pistachios, as well as rice, ptitim (Israeli couscous) and mujadara mixes. Here I also bought the spices I grew to love – coriander and cardamom, cumin and zatar, and an addictive dessert topping called "soomsoomiya" made from sesame and honey. 
Favorite chicken recipes emerged from Ottolenghi online and The New York Times app on my phone, with most including olive oil and lemon. Challot and dessert were purchased locally, or at a favorite Machaneh Yehuda stall that also sold way-too-sweet pastrie.
Even though I have mint (nana) growing in my Cleveland yard, I had never thought to use it in soup, as I do for our two favorite Jerusalem soups. 
From the Middle Eastern cookbook, I made a simple and delicious Persian onion soup, while minted orange carrot soup was found on the internet from a British source. When we had colds, I made my mother-in-law's chicken soup, adding locally prepared kubbeh (a kind of Sephardic kreplach but better) instead of matzah balls. 
Label-reading – in Hebrew– is more important than checking salt and sugar content. To follow a recipe on a package of rice, words such as teaspoon, tablespoon, boil, mix, and stir are needed. One day, I bought milk in a slightly different looking carton, thinking the company had changed the label. It was lactose-free milk – and I learned another new word. 
Israeli measurements are in kilos and grams. At Machaneh Yehuda, signs quote prices per kilo or half-kilo and also need to be read carefully. Too often I forgot that a pound is about ½ a kilo and spent and bought more than I had estimated. Hopefully, I finally learned my lesson just before last Pesach, when I sought to buy one pound of coffee, but inverted the equivalency and bought two pounds (= one kilo) instead.
B'te'avon (good appetite) and Shabbat shalom. 
---
Julie Jaslow Auerbach, a Jewish educator who lives part of the year in Jerusalem and part of the year in Shaker Heights, writes regularly about life in Israel for the Cleveland Jewish News.